Sauchiehall Street Glasgow
Sauchiehall Street in Glasgow centre shopping, restaurants, bar diners, information, images and links to a map and reviews.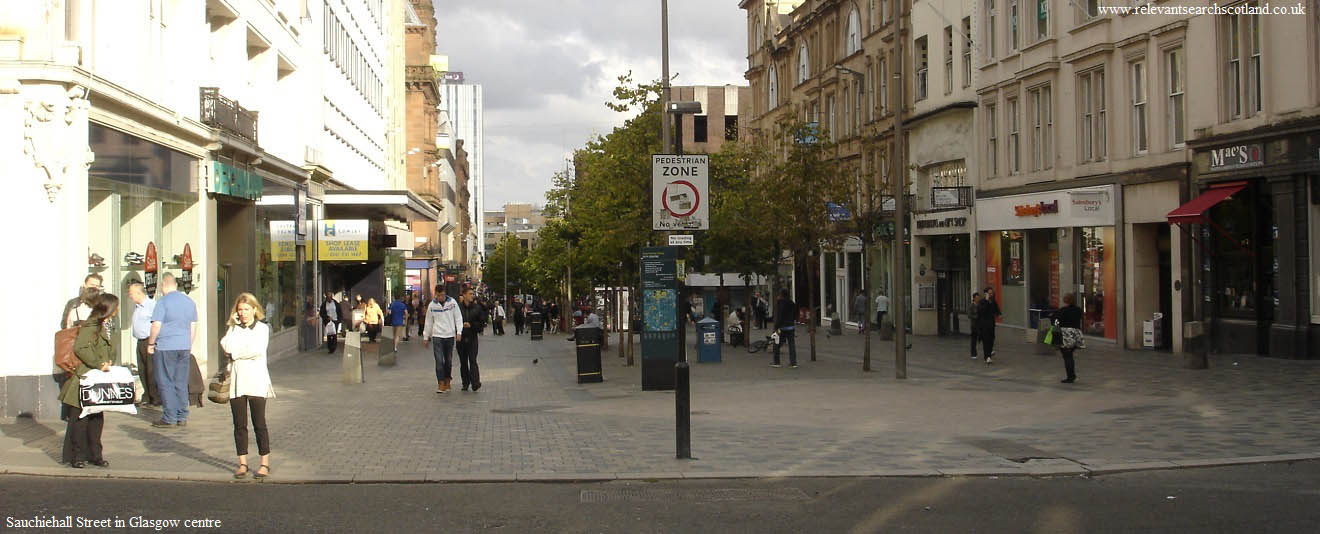 Sauchiehall Street is situated on the north side of Glasgow centre. It runs from the top of Buchanan Street, going west for just over 1 mile, into the Kelvingrove area. The main shopping section is from Buchanan Street for about 500 yards, that is pedestrian only, as seen above. The next 500 yards of Sauchiehall Street, has few shops, but is full of bar diners, restaurants and nightclubs. The last 500 yards of Sachiehall Street, west of Charring Cross, is mainly an elegant street with many victorian town houses.
The bar diners on Sauchiehall Street, listed east to west, include: The Lauder's, Molly Malones, Yates's, JD Wetherspoon/The Hengler's Circus, Campus, Bar Budda, Variety, Nice N Sleazy, The Hall, and O'Neill's. See Sauchiehall Street Bar Diners for more information.
Shops on Sauchiehall Street, going from the east to west, include: Dr Martins, The Works - bookstore, Sports Direct, Mountian Warehouse, Watt Brothers - dept store, Lush - hand made cosmetics, Virgin Media, Waterstone's - books, Marks & Spencer, Flying Tiger - homeware, Superdrug, Blacks - outdoor clothing, T.K. Max, Primark discount fashion, Boots, Dunnes - dept store, Deichmann -shoes, Nevisport - outdoor clothing .
Restaurants on Sauchiehall Street include: Kama Sutra - Indian, The Noodle Bar, Loon Fung - cantonese, Nanakusa Japanese Grill, Thairiffic, Antipasti - Italian .
Nightclubs include: The Garage, O2 ABC & Box .