Central Station Bar Diners Glasgow
List of Bar Diners & Bars around Central Station in Glasgow centre with websites, information, images, telephone numbers, postcodes and links to maps and reviews.
Central Station Bar Diners Glasgow include traditional Scottish pubs and modern bar diners. The pubs and bars diners listed below serve meals through the day and early evening, then become bustling nightspots in the late evening with some providing live music, quizzes, karaoke, and sport on large TV screens.
Glasgow Central Train Station is situated on the southwest side of Glasgow centre. Map.
Click on Post-Codes for Maps & Reviews.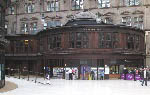 Champagne Central
Bar Diner in Glasgow Central Station. One of the most stylish and glamorous places in Glasgow to enjoy a glass of bubbles, fine wines, delicious cocktails and a sophisticated menu including seafood and caviar. Tel: 0141 221 3388.
Website . G1 3SF . Image
O'Neill's Grand Central
Bar Diner 40-48 Union Street Glasgow. Formerly The Royal Scot. With a a beer garden for soaking up the sun. Tel: 0141 229 6011.
Website . G1 3QX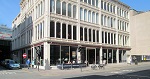 The Crystal Palace
Bar Diner 36 Jamaica Street Glasgow. A J D Wetherspoon large and spacious spread over two floors showing sporting events daily. Also a popular pre-club meeting place. Tel: 0141 221 2624.
Website . G1 4QD . Image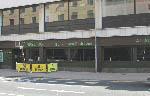 Mint & Lime
Bar Diner 318 Clyde Street Glasgow. Great drinks, food, service and music, an ideal place for a quick meal or relaxing after a busy day . Tel: 0845 539 9956.
Website . G1 4NN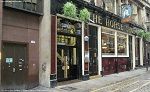 The Horseshoe Bar
Bar Diner on Drury Street. A tradition Scottish bar serving inexpensive food with seating down stairs and on the first floor with views over the bar. A local bakers pie and a pint is a popular order. Tel: 0141 248 6368.
Website . G2 5AE . Image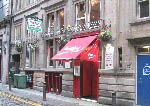 Yesbar
Bar Diner on Drury Street Glasgow. Set over three floors with a capacity of around 200 with a retro style Italian cafe interior serving pizza by the metre.
G2 5AA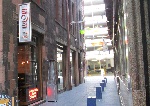 Bar Soba
Bar Diner 11 Mitchell Lane. One of Glasgow's finest reputations for music, Cocktail Bar & Restaurant, serving fine Pan-Asian Street Food. Tel: 0141 204 2404.
Website . G1 3NU . Image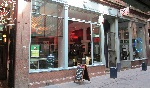 TABAC
Bar Diner 10 Mitchell Lane Glasgow. Formerly Bar Ten, an ideal place for lunch with a hearty home-cooked menu with something for every taste. Tel: 0141 572 1448.
Website . G1 3NU . Image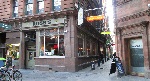 Ross's
Bar Diner 78 Mitchell Street Glasgow. A traditional Scottish pub serving food throughout the day and often provides entertainment at night. Tel: 0141 221 0444.
Website . G1 3NA . Image
Abandon Ship
Bar Diner 43 Mitchell Street Glasgow. Art, neon signs, music, spicy burgers, wings and more. Tel: 0141 248 8097.
Website . G1 3LN
Tingle Bar
Bar Diner 33 Mitchell Street Glasgow. Food, cocktails and DJ music nights in a lively bar. Tel: 0141 222 2000.
Website . G1 3LN . Image
The West Side of Central Station Bar Diners
Toby Jug
Bar Diner 8 Waterloo Street Glasgow. A traditional Scottish pub situated close to the main entrance to Glasgow Central Train Station. Tel: 0141 221 4159.
Postcode: G2 6LL . Image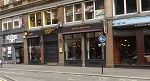 The Smokin' Fox
Bars Diner 6 Waterloo Street Glasgow. Bar bites, starters, steak pie, steaks, fish and chips, burgers, deserts and more. Tel: 0141 226 2482.
Website . G2 6DA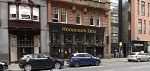 Rhoderick Dhu
Bars Diner 21 Waterloo Street Glasgow. Three Sky boxes and 11 TV screens, menu packed with pub classics such as British beef cooked in beer gravy, and beer-battered haddock. Tel: 0141 221 5479.
Website . G2 6BZ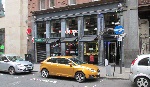 Drop
Bars Diner 17 Waterloo Street Glasgow. Good Food, Large TV Screens and Late Night Music. Tel: 0141 248 8878.
G2 6AY . Image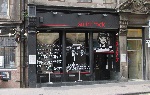 Solid Rock
Bars Diner 19 Hope Street Glasgow. For Rock fans to come and enjoy the food, free Wi-Fi, lazy afternoons and crazy nights, while we play legendary Rock Music. Tel: 0141 221 1105.
Website . G2 6AB . Image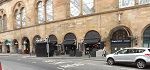 No 16 Bar
16 Hope Street Glasgow. Formerly McGinns, now popular for food and drinks. T: 0141 221 2056
G2 6AA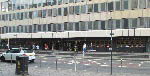 Sir John Moore
Bars Diner 260-292 Argyle. Street Glasgow. This bar diner was named after the Glasgow-born soldier, Sir John Moore, the first statue to be unveiled in George Square, in 1819. Tel: 0141 222 1780.
Website . G2 8QW . Image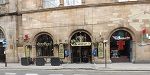 26 Hope Street
26 Hope Street Glasgow. Karaoke nights and old style live music at weekends. Tel: 0141 221 8997.
Facebook . G2 6AA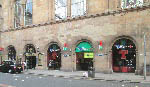 Reardons Snooker and Pool
24 Hope Street Glasgow. Many snooker and pool tables with a great selection on beers and spirits. Tel: 0141 221 4646.
Website . G2 1AA . Image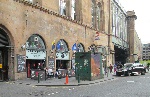 Denholm's Bar
17 Hope Street Glasgow. Serve pies & hosts regular karaoke.
Website . G2 6AB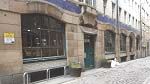 Stereo Cafe Bar
22 Renfield Lane Glasgow. A dedicated vegan bar & kitchen during the day with music at night. Tel: 0141 222 2254.
Website . G2 5AR
Bavaria Brauhaus
Bars Diner 30 Bothwell Street, Glasgow centre. German Style Beer Hall on two levels with German food. Tel: 0141 457 7100.
Website . G2 6NU