George Square Bar Diners Glasgow
A list of Bar Diners around George Square in Glasgow centre with websites, information, images, telephone numbers, postcodes and links to maps and reviews.
George Square Bars Diners in Glasgow include traditional Scottish pubs and modern bar diners. The pubs and bars diners listed below serve meals through the day and early evening, then become bustling nightspots in the late evening with some providing live music, quizzes, karaoke, and sport on large TV screens.
Click on Post-Codes for Maps & Reviews.
George Square is the centre of Glasgow next to Queen Street Train Station where the Tour Buses depart. View a Google road Map.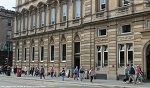 JD Wetherspoon / The Counting House
2 St Vincents Place, overlooking George Square. The Flagship J D Wetherspoon for Scotland serving inexpensive meals and drinks in a large comfortable setting. This bar/diner was once a Bank of Scotland, with an ornate interior, and views over George Square. Tel: 0141 225 0160.
Website . G1 2DH . Image
Camperdown Place
Bar Diner 4 -5 West George Street Glasgow, overlooking George Square. Closed.
G2 1DR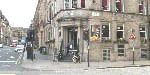 The Piper On The Square
Bar Diner 57 Cochrane Street Glasgow, overlooking George Square. Traditional Scottish pub serving Scottish and European food daily from 12 noon to 9.30pm. The Piper has bars on the ground floor and first floor with views over George Square. Tel: 0141 552 1740.
Website . G1 1HL . Image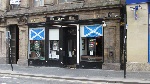 Drouthy's
Bar Diner 155 Queen Street Glasgow, about 50 yards south of George Square. Busy city-centre bar with meal deals, big-screen football, horseracing and other big fixtures, and a Saturday-night DJ. Tel: 0141 243 2964.
Website . G1 3BJ . Image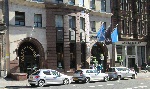 Waxy O'Connors
Bar Diner 44-46 West George Street, about 100 yards west of George Square. With 3 floors, 6 bars and 9 different areas, Waxy's is one of Glasgow's most unique bars. We serve bar food every day until 8.45pm - including breakfast . Tel: 0141 354 5154 .
Website . G2 1DH . Image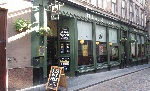 The Auctioneers
Bar Diner 6 North Court Glasgow, about 100 yards west of George Square. A classic Scottish pub in Glasgow city centre - perfect for anyone who loves hearty pub-food and great value drinking . Tel: 0141 222 2989.
Website . G1 2DP . Image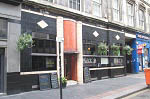 Max's Bar & Grill
73 Queen Street Glasgow, about 150 yards south of George Square. Bar, Restaurant Grill & La Cheetah Club. Open 7 days for food drinks and music downstairs at La Cheetah Tel: 0141 221 1379.
Website . G1 3BZ