A list of Glasgow Fishing lochs with websites, information, telephone numbers and links to maps and reviews.
Glasgow Fishing is mainly Loch Fishing from 10 miles to 33 miles from Glasgow centre. There does not seem to be any Glasgow River Fishing or Sea Fishing trips just now.
Click on PostCodes for Maps and Reviews.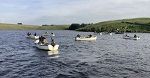 Harelaw Fishery
10 miles southwest of Glasgow. Stocked weekly with grade 1 Rainbows and Blues from 2Ib up. A large number of natural wild brown trout are also present up to 8lbs. Fly Fishing Only. Tel: 07598 970 615.
Website . Map G78 3EE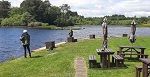 Lawfield Fishery
18 miles west of Glasgow. Rainbows, brown, blue and some natural brown trout. RecordS for rainbow is 19lbs, brown 8lbs and blue trout 5lb. The comfortable fishery lodge sells hot and cold drinks, snacks and confectionery. Tel: 01505 874 182.
Facebook . Postcode: PA13 4NY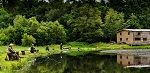 Craufurdland Fishery
18 miles south on the Craufurdland Estate, just outside Fenwick, Ayrshire. Stocked with rainbows, browns and golden trout with fishing available from the bank or on boats. Facilities include refreshments, tackle for sale and tuition. Tel: 01560 600 569.
craufurdland.co.uk . KA3 6BW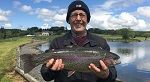 Cowans Law
22 miles south of Glasgow by the small village of Moscow close to Fenwick in North Ayrshire. Fly Fishing packages start from £16 for a 2 hour ticket for C&R. Shooting and Archery is also available. Tel: 07775 671 749.
Website . Map KA4 8PP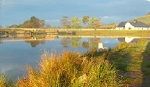 Ardgowan Trout Fishery
30 miles west. Brown, Blue and Rainbow Trout. Bait and Fly fishing with an on-site cafe. Tel 07533 329 844.
Facebook . Postcode: PA16 9LX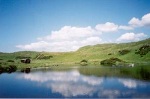 Newhaylie Trout Fishery
31 miles southwest. Situated about two miles east of Largs off the A760 Dalry Road. The A760 branches off Irvine Road to the south of Largs centre at the Haylie Hotel. This stocked loch, that is open all year, offers bank fishing for rainbows and browns. Refreshments and tackle are available. Tel: 01475 676 005.
Facebook . Postcode: KA30 9QA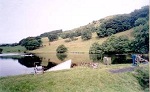 Middleton Fishery
33 miles southwest, about three miles northeast of Largs. Directions are from Greenock Road a few hundred yards north of Largs centre, take Douglas Street; this street leads to Brisbane Glen Road where the fishery is situated. This stocked loch, that is open all year, offers bank fishing for rainbows and browns. Tackle, tuition and refreshments are available. Tel: 01475 689 692.
Facebook . Postcode: KA30 8SL