Glasgow Bar Diners Various Areas
A list of popular Bar Diners in Various Areas around Glasgow centre with websites, information, images, telephone numbers, postcodes and links to maps and reviews.
These Bar Diners include traditional Scottish pubs and modern bar diners. The pubs and bar diners listed below serve meals through the day and early evening, then become bustling nightspots in the late evening with some providing live music, quizzes, karaoke, and sport on large TV screens.
Click on Post-Codes for Maps & Google Reviews.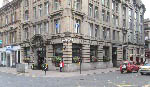 The Drum and Monkey
Bars Diner 91 St. Vincent Street, Glasgow city centre. Discover a traditional pub of unique character with an eclectic range of real ales and its quality pub food. Tel: 0141 221 6636.
Website . G2 5TF . Image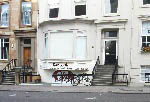 King Tut's Bar
Diner 272a St Vincent Street, city centre. One of the UK's premier small live music venues that serves food from 12pm till 8pm Mon-Sat and show day Sundays from 5pm-8pm. Tel: 0141 221 5279.
Website . G2 5RL . Image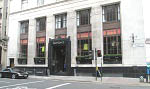 Shilling Brewing Co
92 West George Street, Glasgow city centre. Alongside beer, we specialize in pizza. Tel: 0141 353 1654.
Website . G2 1PJ
Merchant Glasgow
134 West George Street, Glasgow city centre. Contemporary bar over two floors with good food such as wings, burgers, grills and more, premier sports, and live music nights. Tel: 0141 353 3926.
Website . G2 2HG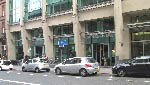 The Society Room / Lloyds No.1 Bars
Diner 151 West George Street, city centre. A large JD Wetherspoon bar diner in the former Star Life Assurance Society building. Tel: 0141 229 7560.
Website . G2 2JJ . Image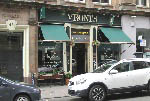 Vroni's
Wine Bar 47 West Nile Street, Glasgow city centre. Wine Bar with food such as Light Bites, Platters, and Main Plates, open late seven nights a week. Tel: 0141 221 4677.
Website . G1 2PT . Image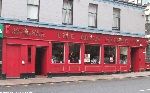 The Iron Horse
Bar Diner 115 West Nile Street, close to the east side of Sauchiehall Street. A traditional Scottish bar serving Scottish breakfast and meals throughout the day. Some nights have entertainment such as karaoke and quizzes. Tel: 0141 332 2215.
Website . G1 2SB . Image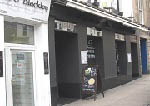 Rufus T Firefly
Bars Diner 207 Hope Street, Glasgow centre. A nice atmosphere where you can listen to your favourite music and enjoy good food. Tel: 0141 332 1469.
G2 2UW
Buck's Bar
Bars Diner 111 West Regent Street, Glasgow centre. American themed live rock, fried chicken and good beer. Tel: 0141 648 4842.
Website . G2 2RU
The Social
Bars Diner 27 Royal Exchange Square, Glasgow centre. Cafe through the day with an International menu, a cocktail bar in the evening. Tel: 0141 222 2321.
Website . G1 3AJ
Tingle Shooter Bar & Cafe
33 Mitchell Street, Glasgow just off Argyle Street. A very popular lunch menu and we often offer FREE PIZZA between 6 and -8pm. Tel: 0141 222 2000.
Website . G1 3LN . Image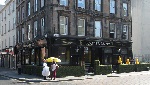 Glasgow Hootenanny
Bar Diner 40 Howard Street, Glasgow south of Argyle Street. Serving good food and cold drinks with live entertainment. A traditional Scottish bar & restaurant with a modern twist. Tel: 0141 204 1462.
Website . G1 4EE . Image