All the Isle of Arran Hotels
A list of all the Isle of Arran Hotels in Scotland with Websites, Phone Numbers, Images and links to Maps and Reviews.
Many top Arran hotels now offer the best deals on their own website, or through a booking agency, this website allows you to compare deals.
Brodick is the largest town on the Isle of Arran with a port where the large ferry from Ardrossan docks. Lochranza on the northern tip of Arran has a slip from where a small ferry crosses to the Kintyre Peninsula. Lamlash, 3 miles south of Brodick, has a slip from where a small ferry departs to the spiritual Holy Island, summer only.
Other attractions on Arran are the Kings Caves by Blackwaterfoot, many Golf Courses, Hill Walking, Horse Riding, Sea Fishing, Castle Visits, Whisky Distilery, Brewery & Visitor Centre, Aromatics/Candle Facotry/Shop and Standing Stones.
VS = Visit Scotland Assessed . AA = Automobile Association Assessed . SC = Self Classified
Click on Post-Codes for Reviews, Maps & best Booking Offers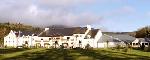 Auchrannie Spa Resort
SC 4 Star, 0.4 of a mile northwest of Brodick centre on Auchrannie Road. In acres of mature landscaped gardens with a number of activities available. Tel: 01770 302 234.
Website . Postcode: KA27 8BZ
Auchrannie Country House Hotel & Restaurant
SC 4 Star, 0.4 of a mile northwest of Brodick centre on Auchrannie Road. In a country estate with views of Goat Fell Mountain. Tel: 01770 302 234.
Website . KA27 8BZ . Large Image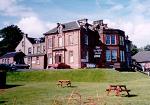 Douglas Hotel & Bistro
SC 4 Star, in the centre of Brodick by the ferry terminal. The red Arran sandstone exterior dates from the 1850s whilst internally, the hotel has been fully modernised recently. Tel: 01770 302 968.
Website . Postcode: KA27 8AW

Kilmichael Country House Hotel
SC 4 Star, 0.6 of a mile northwest of Brodick centre at Glen Cloy. Teh hotel is currently closed but the self catering cottages are available. Tel: 01770 302 219.
Website . KA27 8BY . Large Image

Glenisle Hotel & Restaurant
SC 3 Star, 4 miles south of Brodick on Shore Road in the village of Lamlash. A comfortable Scottish Coastal Hotel with first class hospitality in accommodation, restaurant, bar and stunning views over Lamlash Bay and the historic Holy Isle. Tel: 01770 600 559.
Website . KA27 8LY . Large Image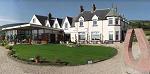 Kildonan Hotel
SC 3 Star, 12 miles south of Brodick at Kildonan, southern tip of Arran. Situated on the beach at the south tip of the island, we have panoramic views across to Pladda and Ailsa Craig. Dozens of seals bask on the rocks on our doorstep. Tel: 01770 820 207.
Website . KA27 8SE . Large Image

Kinloch Hotel
SC 3 Star, 10 miles southwest of Brodick at Blackwaterfoot, western coast of Arran. A relaxed & quiet comfort with superior accommodation, excellent food & outstanding service. Tel: 01770 860 444.
Website . KA27 8ET . Large Image

Lagg Hotel & Restaurant
SC 3 Star, 17 miles southwest of Brodick at Kilmory. Thirteen bedrooms and guests can choose to dine in either the Lounge, Restaurant or large gardens. Tel: 01770 870 255.
Website . KA27 8PQ . Large Image

Ormidale Hotel
VS 3 Star, 0.5 of a mile northwest of Brodick centre in a woodland setting. A Victorian building, built in the 1850s as the summer house of the painter Herring. The building was converted to a hotel in 1935 by the present owners grandparents. Tel: 01770 302 293.
Website . KA27 8BY . Large Image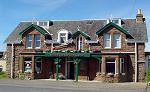 Blackwaterfoot Lodge & Bistro
SC 2 Star, 10 miles southwest of Brodick at Blackwaterfoot, western coast of Arran. About 50 yards from the picturesque Blackwaterfoot harbour, a five minute stroll to the sandy beach, and 5 minutes to the unique 12 hole links of Shiskine golf course, one of the top 100 courses in the UK. Tel: 01770 860 202.
Website . KA27 8EU . Large Image

Lochranza Hotel
SC 3 Star, 13 miles north of Brodick in the coastal village of Lochranza. Amidst this timeless village with spectacular panoramic view across the bay. One of Arran's original hotels with tastefully decorated rooms. Tel: 01770 830 223.
Website . KA27 8HL . Large Image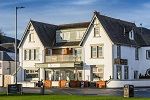 Lamlash Bay Hotel & Restaurant
SC 3 Star, 4 miles south of Brodick on Shore Road in the village of Lamlash. A shore front family run hotel situated just 150 yards from the beach with unique panoramic views over the bay to the Holy Isle. Tel: 01770 600 844.
Website . Postcode: KA27 8LU

Corrie Hotel
SC budget, 5 miles north of Brodick in the coastal village of Corrie. The hotel has a Lounge bar, Public bar and a Coffee lounge. For residents there are en-suite facilities as well as standard rooms. Tel: 01770 810 273.
Website . KA27 8JB . Large Image

Sannox Bay Hotel & Restaurant
SC 2 Star, 7 miles north of Brodick in the coastal village of Sannox. In the beautiful village of Sannox beneath the breathtaking Glen Sannox. Situated just 7 miles from either Brodick or Lochranza ferry terminals. Tel: 01770 810 225.
Website . KA27 8JD . Large Image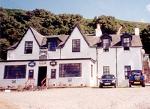 Catacol Bay Hotel
SC budget, 15 miles northwest of Brodick at the northern coast of Arran, 1½ miles from the Lochranza ferry, Currently Closed. Tel: 01770 830 231.
Postcode: KA27 8HN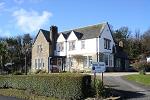 Royal Arran Hotel
SC 3 - 4 Star, 8 miles south of Brodick in the coastal village of Whiting Bay. CLOSED.
KA27 8PZ . Large Image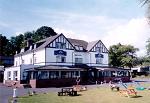 McLaren Hotel
Closed in 2015, has had flats built in its place.
Postcode: KA27 8AJ . Large Image