Sauchiehall Street Bar Diners Glasgow
A list of the most popular Bar Diners on Sauchiehall Street in Glasgow with websites, information, images, telephone numbers, postcodes and links to maps and reviews.
Sauchiehall Street Bar Diners include traditional Scottish pubs and modern bar diners. The pubs and bar diners listed below serve meals through the day and early evening, then become bustling nightspots in the late evening with some providing live music, quizzes, karaoke, and sport on large TV screens.
Sauchiehall Street runs along to top side of Glasgow Centre Map.
Click on Post-Codes for Maps & Reviews.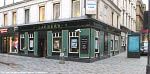 The Lauder's
Bar Diner 76 Sauchiehall Street Glasgow. The bars name dates back to 1871, when the pub was owned by whisky maker Archibald Lauder. We serve up a cracking pint of cask ale and tasty pub-food, all at great prices. Tel: 0141 332 9690.
Website . G2 3DE . Image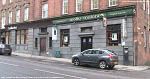 Molly Malones
Bar Diner 224 Hope Street, next to Sauchiehall Street. A venue with a full cafe menu by day and a great live entertainment by night, including; Cover Bands, Celtic Bands and Acoustic Musicians. Tel: 0141 332 2757.
Website . G2 2UG . Image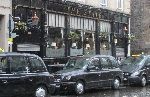 The State
Bar Only 148-148a Holland Street, next to Sauchiehall Street. A tradition Scottish bar serving a good variety of beers and whiskey. A popular bar for a quiet drink, compared to the lively bars on Sauchiehall Street 30 yards north. Tel: 0141 332 2159.
Website . G2 4NG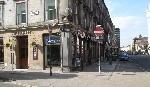 JD Wetherspoon / The Hengler's Circus
Bar Diner 351 Sauchiehall Street Glasgow. Named after the popular circus that stood close by in the early 20th century. Large, comfortable and inexpensive meals & drinks. Tel: 0141 331 9810.
Website . G2 3HU . Image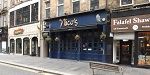 Nico's Cafe Bar
Bar Diner 375 Sauchiehall Street Glasgow. Food and drinks through the day then DJs or live football most nights. Tel: 0141 332 7438.
Website . G2 3HU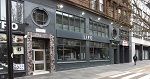 Life
Bar Diner 396 Sauchiehall Street Glasgow. Steaks, burgers, chicken, pork, wraps, craft beer, in a relaxed atmosphere with live music nights. Tel: 0141 237 1919.
Website . G2 3JD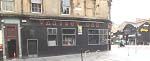 Variety
Bar Diner 401 Sauchiehall Street Glasgow. Traditional Scottish pub in the middle of Sauchiehall Street serving Scottish food and inexpensive drinks. Tel: 0141 332 4449.
G2 3LG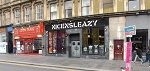 Nice N Sleazy
Bar Diner 421 Sauchiehall Street Glasgow. A bar and club for food and drink during the day, live music and DJ's at night. Tel: 0141 333 0900.
Website . G2 3LG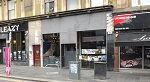 Broadcast
Bar Diner 427 Sauchiehall Street Glasgow. Formerly The Local, Broadcast is a popular cafe bar venue with good food and entertainment. Tel: 0141 332 7304.
Website . G2 3LG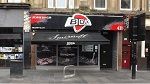 Box
Bar Only 431 Sauchiehall Street Glasgow. For drinks, live bands, open mic, jam and DJs. Tel: 0141 332 5431.
Website . G2 3LG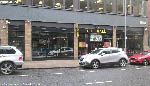 The Hall
Bar Diner 457 Sauchiehall Street Glasgow. Beer, Burgers and Sport on TV are what we specialize in. Tel: 0141 352 7971.
Website . G2 3LG . Image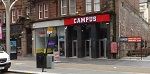 Campus
Bar Only 528 Sauchiehall Street Glasgow. Open 7 days a week for music, quizzes, games, events, and live football. Tel: 0141 332 3994.
Website . G2 3LW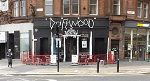 Driftwood
Bar Diner next to Sauchiehall Street Glasgow at 2 St George's Road. Mexican food and lively music nights. Tel: 0141 332 7000.
G3 7UL