Below is a list of the main tour operators in Scotland for tours from Edinburgh, Glasgow and Oban to the top attractions around Scotland.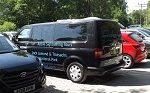 Active Sightseeing Tours based in the Loch Lomond and the Trossachs National park providing small group tours focusing on exploring Scotland's top attractions. Tel: 01389 513 467.
Website . G82 3PD / Reviews .
Highland Experience Tours from Edinburgh, Glasgow & Inverness. 1-9 day, fun and friendly, guided tours around Scotland to Loch Ness, Glen Coe, Skye, Mull, Orkney and much more. Tel: 0131 285 3314.
Website . EH1 1RE . Reviews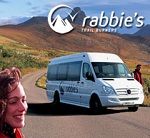 Rabbie's Tours 1,2,3,4 & 5 day tours to some of Scotlands most visited attractions based in Edinburgh. From Edinburgh and Glasgow to the Scottish Highlands and Islands and north UK such as the Lake District and York. Office on the Royal Mile. Tel: 0131 226 3133.
Website . EH1 3EG . Reviews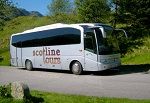 Scotline Tours 1 & 3 day tours to many of Scotlands top attractions based in Edinburgh. Luxury air-conditioned coaches with experienced drivers and guides. Some entrance fees included. Office on the Royal Mile. Tel: 0131 557 0162.
Website . EH1 1SG . Reviews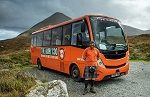 The Hairy Coo We bring Scotland to life with our exciting and fascinating 1 day, 3 day and 5 day tours of Scotland from Edinburgh. Tel: 0131 212 5026.
Website . EH6 5NP . Reviews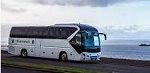 Timberbush Tours 1, 2 & 3 day tours to Scotlands top attractions based in Edinburgh. Scotland's top scenery from a luxurious, comfortable coach for a very enjoyable trip. Rosslyn Chapel is one of the tours. Tel: 0131 226 6066. Office on the Royal Mile. Tel: 0131 226 6066.
Website . EH1 2ND . Reviews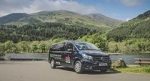 Your Tour Scotland Discover your own Scotland with Your Tour Scotland based in Edinburgh. We offer bespoke, private tours for small groups. Our qualified, knowledgable and experienced guides can help you create the perfect itinerary. Tel: 0131 212 5026.
Website . EH6 5NP . Reviews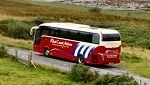 West Coast Tours day tours to Scotlands top Wset Coast Attractions, based in Oban. A number of tours to the top attractions on the west coast islands and towns. Tel: 01631 566 809.
Website . PA34 5RS . Reviews