A guide to walking routes in Scotland with Links and Images.
Although Scotland is best known for its mountain hikes, there are also a number of walks that are extremely popular as well, the main two being the West Highland Way, that runs between the north side of Glasgow, and Fort William in the Highlands, 96 miles, and the Southern Upland Way, that runs from the southwest coast, to the southeast coast, 212 miles.
Baragny Estate in Ayrshire Large Image.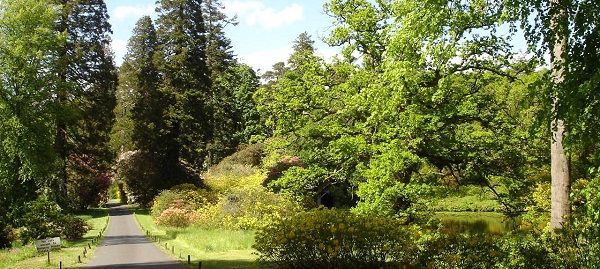 The longer routes can be done in sections. There are a large number of other official walking routes throughout the country. Many people and clubs try to do a new route, or section of a route, as often as possible, instead of bagging a mountain, they claim a trail. A good fairly inexpensive hobby that keeps you fit.
Also, you will learn all about wildlife, see amazing scenery, and my favourite, view country estates with their large houses in carefully planned grounds, with large trees, some native trees, and many imported from all over the world by explorers from the 1800s. You do not need to travel abroad to see exotic trees, they are all here in our country estates.
Listed below are some of the most popular routes with links to information, photos and reviews where possible. There is also an interactive map showing all the routes. View Map.
West Highland Way Glasgow to Fort William 96 miles
The terrain ranges from lowland moors, dense woodland and rolling hills, to high mountainous regions in the Scottish Highlands. These environments provide habitats for a diverse range of wildlife species, both flora and fauna. The route has many campsites, bunkhouses, hostels and B&Bs. The walk normally takes about 7 days. This is probably the most desired route in Scotland to accomplish.
www.west-highland-way.co.uk . Photo Tours under User Reports . Map. Reviews.
Southern Upland Way Scotland southwest coast to southeast coast, 212 miles
The Southern Upland Way is Britain's first official coast to coast long distance foot-path. It runs 212 miles (340 km) from Portpatrick on the south-west coast of Scotland to Cockburnspath on the eastern seaboard. It offers superb and varied walking country, still undiscovered by many enthusiasts. The official website lists the different sections and gives information on accommodation and watering holes in each section. The walk normally takes between 10 and 20 days.
www.southernuplandway.gov.uk . Photo Tours under User Reports . Map. Reviews.
Walkinghlands a list of areas throughout Scotland with many walks in each
Walkinghlands is an in depth guide to walking all over Scotland. Each area has a number of walks listed. User Reports with each walk normally give multiple images and text to describe the walk.
www.walkhighlands.co.uk/#walks

Ayrshire Walking a list of walks in Ayrshire, southwest Scotland
Ayrshire Walking lists a number of walks throughout Ayrshire with large images and directions with each. The walks include: coastal, hills & lochs, islands and country estates.
www.ayrshirescotland.com/ayrshire-walking

Things to look out for:
If a walk should take you high into hills, pay attention to the route so if clouds roll in you will know where you are going or can backtrack to lower ground safely.
Adders are small venomous snakes with the largest about 2 feet in length, found in the UK from March to October, they hibernate underground in winter. These are the only poisonous snakes in the UK with a dark zig zag pattern down their back. They vary in colour from the most common being brown, grey and black. They are not known for being aggressive and nobody has died from an adder bite for more than 20 years. Most people bitten by adders have normally been tying to pick them up. Hiking boots with and walking trousers are normally enough to prevent a bite should you tred on one. More Information & Images.