A list of Nightclubs in Edinburgh with Websites, Phone Numbers and links to Maps and Reviews.
The centre of Edinburgh is around Waverley Train Station and the Balmoral Hotel.
Click on Post-Codes for Maps & Reviews for each Edinburgh Nightclub. Click on the Venue name on the Map for Reviews.
Ents24 for a list of Live Music Events
Bongo Club
66 Cowgate, southeast of City Centre off the Royal Mile down George IV Bridge just above St Giles Cathedral. Specializes in the art and music of the underground with marginalised artists, both local and international, mixing live music, film, theatre and DJ's. Tel: 0131 558 8844.
Website . EH1 1JX / Reviews
Brewhemia
Market Street, southeast side of Waverley Train Station. Formerly The City nightclub. A modern style club for up to 1,500 people with state of the art lighting, sound system, and hosts some of the worlds top DJs. Attracts many students through the week and all ages at weekends. Tel: 0131 226 9560.
Website . EH1 1DE / Reviews
Cabaret Voltaire
Blair Street, off the Royal Mile just below St Giles Cathedral. Open seven nights a week, a thriving twin-roomed venue with some of the best-known club events in the capital. Caters for all genres of dance music and a key player in the city's thriving live music scene. Tel: 0131 247 4704.
Website . EH1 1QR / Reviews
Caves
Niddry Street South, off the Royal Mile just below St Giles Cathedral. An exciting unique, atmospheric venue in the heart of Edinburgh's Old Town, normaly used for weddings and corporate events, but at times for live music nights. Its huge arches form a multitude of unique function rooms. The website list bands that are to play there. Tel: Tel: 0131 510 1122.
Website . EH1 1NS / Reviews
Hive
Niddry Street, off the Royal Mile just below St Giles Cathedral. A 650 capacity venue over two rooms in the underground vaults of the Old Town since opening in July 2007. The venue has a varied line-up seven days a week including pop and chart, indie and electro, rock and metal.
Facebook . EH1 1LG / Reviews
Liquid Room
Victoria Street, off the Royal Mile down George IV Bridge just above St Giles Cathedral. Can hold up to 800 with gigs and events 7 days a week, 365 days a year. We have artists from Hip Hop to Rock, Country to Pop and have Dj's visit from around the globe. Tel: 0131 225 2564.
Website . EH1 2HE / Reviews
Sneaky Petes
Cowgate, off the Royal Mile down George IV Bridge just above St Giles Cathedral. Small intimate night club with many live band nights. Tel: 0131 225 1757.
Website . EH1 1JW / Reviews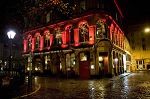 Voodoo Rooms
West Register Street, north end of Princes Street, City Centre. An award-winning venue opened in November 2007 to boost the city's vibrant bar, restaurant and live music scene. Open til 1am 7 days. Tel: 0131 556 7060.
Website . EH2 2AA / Reviews
About 1 mile from the City Centre
Queens Hall
Clerk Street, off the Royal Mile just below St Giles Cathedral down South Bridge for about half of a mile. Offering a wide range of events such as blues, pop, rock, world, folk, classical, jazz and comedy. Tel: 0131 668 2019.
Website . EH1 3JT / Reviews