Edinburgh Theatres & Cinemas
A list of Edinburgh Theatres and Cinemas with Websites, Telephone Numbers, Images and links to Maps, and Reviews.
The centre of Edinburgh is around Waverley Train Station and the Balmoral Hotel.
The Usher Hall, Lyceum Theatre, and Traverse Theatre, are all situated next to each other looking onto Lothian Road, on the south end of Princes Street.
For a quick look at Whats On at these venues, view www.ents24.com/Edinburgh
Click on Post-Codes for Maps & Reviews. Click on the Venue on the Map for Reviews.
Edinburgh Playhouse
18-22 Greenside Place. 0.4 of a mile from the north end of Princes Street down Leith Street, a former cinema that now hosts touring musicals and music concerts with a capacity of 3,059. Tel: 0333 009 6690.
Website . atgtickets.com . EH1 3AA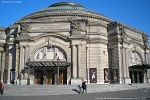 Usher Hall
Lothian Road. Off the south end of Princes Street, one of the top concert halls in the world that has hosted some of the greatest concerts and events in the city such as The Rolling Stones. Tel: 0131 228 1155.
Website . EH1 2EA . Large Image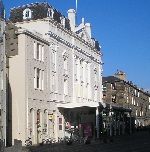 Lyceum Theatre
Grindlay Street, off the south end of Princes Street, down Lothian Road. The Royal Lyceum Theatre Company is in permanent residence in the Lyceum building, perform for up to 48 weeks of the year. Tel: 0131 248 4848.
Website . EH3 9AX . Large Image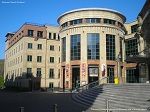 Traverse Theatre
10 Cambridge Street, off the south end of Princes Street, commissions and develops plays or adaptations from contemporary playwrights. It also hosts productions from across the UK. Tel: 0131 228 1404.
Website . EH1 2ED . Large Image
Festival Theatre
13-29 Nicolson Street. 0.4 of a mile southeast of Waverley Train Station along North Bridge past the Royal Mile, hosts a year round programme of music, dance, comedy, ballet, family shows, opera and musicals. Tel: 0131 529 6000.
Website . EH8 9FT / Reviews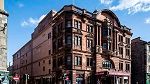 King's Theatre Edinburgh
2 Leven Street. 1.2 miles southwest of the City Centre down Lothian Road, a great choice of plays and dramas as well as the home of Scotland's top Pantomime and a venue for Edinburgh's local amateur societies. Tel: 0131 529 6000.
Website . EH3 9LQ / Reviews

Brunton Theatre
Ladywell Way at Musselburgh, 5 miles east of Edinburgh Centre. The best in quality music, theatre, dance and film year round with shows suitable for all the family. Also with a classical music and dance programme. Tel: 0131 665 2240.
Website . EH21 6AA / Reviews
Filmhouse
88 Lothian Road south end of Princes Street, 3 cinemas open seven days a week. Cinema One shows the latest international releases. Cinemas Two and Three show a wider range of material from the history of world cinema. Tel: 0131 228 2688.
Website . EH3 9BZ / Reviews
Odeon Cinema
118 Lothian Road. South end of Princes Street, one of the oldest cinemas in Edinburgh that shows new mainstream films so is normally very busy at weekends. For popular films, best get there early. Tel: 0333 014 4501.
Website . EH2 8BQ / Reviews
Omni Centre Edinburgh
28 Greenside Row. Just off the north end of Princes Street up Leith Street with 12 screen View Cinema, Restaurants and Bar Diners such as: Cosmos, Nandos, Slug & Lettuce, Tony Macaroni and Wetherspoons. Tel: 0131 524 7770 .
Website . EH1 3AU / Reviews
Cameo Picturehouse
38 Home Street. 1.3 miles southwest of Waverley Train Station dow Lothian Road. The Cameo Cinema opened in 1914 as the King's Cinema, one of the oldest cinemas in Scotland still in use. Was converted to a three-screen Picturehouse in 1992. Tel: 0871 902 5747.
Website . EH3 9LZ / Reviews
Cineworld
130/3 Dundee Street. 1.6 miles southwest of Waverley Train Station, half of a mile from Haymarket Train Station. A 13 screen multiplex with a total seating capacity of 3,022, with the largest screen having 527 seats, down to the smallest seating 88. Tel: 0330 333 4444.
Website . EH11 1AF / Reviews