A list of Glasgow Boat Trips along the River Clyde, on Loch Lomond, Loch Catrine and to Islands in the southwest of Scotland.
With each Glasgow Boat Trip company listing, is relevant information, links to websites, postcodes, and maps, reviews, images and telephone numbers where available.
Click on Post-Codes for Maps & Reviews.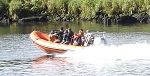 Seaforce
From Glasgow Riverside Museum to the Clyde & Sea Lochs. One of the most exciting things to do in Glasgow, a fast powerboat ride or boat trip through Glasgow City on the Clyde or on other tours lasting from 1 hour to a 5 hour tour of the Clyde Estuary and its Sea Lochs. Tel: 0141 221 1070.
Website . G3 8RS
Waverley Paddle Steamer
Glasgow Science Centre to Loch Long, Loch Fyne & Western Isles . The Waverley Paddle Steamer steams out of Glasgow, from May until August. The main day from Glasgow is a Sunday but there are other days as well. This is the only sea going paddle steamer in the world. The Science Centre is close to Glasgow centre with a large inexpensive car park. Tel: 0141 243 2224.
Website . G51 1EA . Image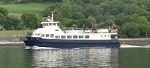 Clyde Cruises
From Glasgow Riverside Museum to visitor attractions along the Clyde. For the Clyde's shipbuilding past at the Titan Crane, its future at the Glasgow Science Centre, and the top shopping experiences of Buchanan Street and Braehead. Also boats for Charter such as Weddings and Corporate Events. Also longer trips out to the Sea Lochs. Tel: 01475 721 281.
Website . G3 8RS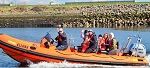 Glasgow City Boats
We can cater for birthday parties, hen and stag do's, family days out, photography, sightseeing, water taxis, or any other service or place you may want to visit. We also offer training courses. Tel: 0141 266 0087.
Website . G3 8AZ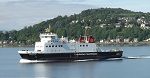 Isle of Bute Ferry
From Wemyss Bay 33 miles west. One of the most popular boat trips from Glasgow is the crossing from Wemyss Bay to the scenic town of Rothsey on the Island of Bute. There are regular inexpensive Trains from Glasgow Central Train Station to Wemyss Bay. The crossing takes about 35 minutes on one of two modern ferries with catering on board. Ferries run all day about every hour. Price about £8 return.
Website . Map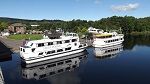 Loch Lomond
From Balloch, 19 miles northwest of Glasgow. Sweeney's Cruises is a family run organization that has been operating boats on Loch Lomond for over 100 years. They operate five passenger boats: Astina, Silver Marlin, Lomond Duchess, Lomond Sunrise and Glen Falloch. Regular Trains run between Glasgow and Balloch. Tel: 01389 752 376.
Website . G83 8SS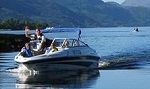 Loch Lomond
From Luss, 26 miles northwest of Glasgow. Loch Lomond Leisure's luxury speedboat tour is one of the most memorable and exciting ways to view Loch Lomond. You can cruise slowly throughout the many Islands, or travel much faster when in open waters with constantly changing scenery! Tel: 0333 577 0715.
Website . G83 8NZ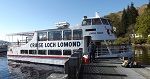 Loch Lomond
From Tarbet, 34 miles northwest of Glasgow. Cruise Loch Lomond. gives an experience of the serenity of the loch from the comfort of one of five vessels. Ideal for entertaining clients or colleagues, getting married on board, or celebrating a special occasion. Tel: 01301 702 356.
Website . G83 7DE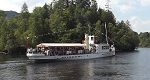 Loch Katrine
From Trossachs Pier 32 miles north of Glasgow. The historic steamship Sir Walter Scott has cruised these waters for over a century. Cruises depart from the Trossachs Pier or Stronachlachar.
Website . FK17 8HZ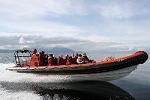 Largs - Isle of Cumbrae waters
32 miles southwest at Largfs Yacht Haven. Cumbrae Voyages gives marine adventures and wildlife tours around the beautiful Islands of the lower Clyde. Fully interactive expeditions depart from Largs, onboard the custom built, 12 seat, Rigid Inflatable Boats. Regular Buses run between Glasgow and Largs. Tel: 0845 257 0404.
Website . KA30 8EZ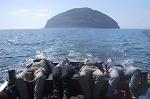 Girvan - Isle of Ailsa Craig
56 miles southwest of Glasgow from Girvan Harbour. See spectacular bird and wildlife around Ailsa Craig, an ideal location for bird enthusiasts and hillwalkers. Daily Sailings from Girvan Harbour, all year round, weather permitting, on a fully licenced vessel that can carry 12 passengers per trip. Many years of experience. Buses run between Glasgow and Girvan. Tel: 01465 713 219, Mobile: 0777 3794 358.
Website . AS Page . KA26 9AJ