Listing of All Glasgow Suburb Hotels with Websites , Images , Phone Numbers , Postcodes and Links to Maps and Top Reviews .
Listed below are all Glasgow Suburb Hotels, situated from 1 mile to 12 miles from Glasgow centre.
VS = Visit Scotland Assessed . AA = Automobile Association Assessed . SC = Self Classified
Click on Post-Codes for Reviews, Maps & Booking Offers may be available..
Hotels by the SEC conference centre & OVO Hydro entertainment venue.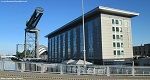 Hilton Garden Inn & Restaurant
SC 4 Star, 1.5 miles west of Glasgow centre on Finnieston Quay. Situated next to the SECC, the hotel is a peaceful retreat for business and leisure travellers alike. Phone number 0141 240 1002. Image
Website . Reviews Offers G3 8HN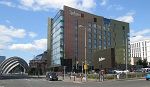 Radisson Red Glasgow
SC 4 Star, 1.5 miles west of Glasgow centre on Tunnel Street. Modern hotel by the Scottish Exhibition & Conference Centre, and Hydro exhibition venue. Tel: 0141 471 1700. Image
Website . Reviews Offers G3 8HL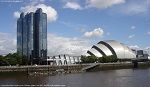 Crowne Plaza Hotel & Restaurant
VS 4 Star, 1.8 miles west of Glasgow centre on Congress Road. A modern hotel overlooking the River Clyde, next to the Scottish Exhibition & Conference Centre, SECC and Hydro exhibition venue. Tel: 0141 306 9988. Image
Website . Reviews Offers G3 8QT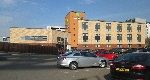 Campanile Hotel & Restaurant Glasgow
SC 3 Star, 1.8 miles west of Glasgow centre on Tunnel Street. Only 100 yards from the Scottish Exhibition and Conference Centre (SECC) and the Hydro entertainment venue. Phone number 0141 287 7700. Image
Website . Reviews Offers G3 8HL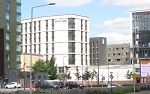 Courtyard Glasgow SEC
SC 3 Star, 1.8 miles west of Glasgow centre on Stobcross Road. Next to the Scottish Exhibition and Conference Centre (SECC) and the Hydro entertainment venue with 216 rooms. Phone number 0141 473 8748.
Website . Offers Reviews G3 8GS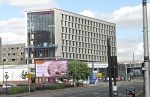 Moxy Hotel Glasgow SEC
SC 3 Star, 1.8 miles west of Glasgow centre on Finnieston Street. By the Scottish Exhibition and Conference Centre (SECC) and the Hydro entertainment venue. Phone number 0141 406 0727.
Website . Offers Reviews G3 8HB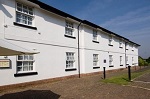 Premier Inn Glasgow Pacific Quay (SECC)
SC 3 Star, 2 miles southwest of Glasgow centre at Pacific Quay. On the south bank of the River Clyde with easy access to the SECC and Hydro via foot bridges. Phone number 0333 321 9257.
Website . Reviews Offers G51 1DZ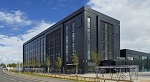 Village Hotel Glasgow
SC 4 Star, 2 miles southwest of Glasgow centre at Pacific Quay. On the south side of the River Clyde with easy access to the SECC and Hydro via foot bridges. Phone number 0141 375 9266.
Website . Reviews Offers G51 1DB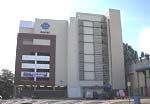 Hotel ibis budget Glasgow
SC 2 Star, 1.5 miles southwest of Glasgow centre at Springfield Quay. On the south side of the River Clyde a 16 minute walk from the SECC and Hydro. Phone number 0141 429 8013.
Website . Reviews Offers G5 8NP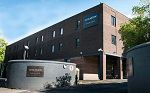 GoGlasgow Urban Hotel
SC 3 Star, 2.8 miles southwest of Glasgow centre on Paisley Road West. 117 rooms, also pet-friendly hotel with minimal, monochrome with hints of industrial decor. Phone number 0141 427 3146.
Website . Reviews Offers G51 1RW
West End by Kelvingrove Museum, Botanic Gardens & Univesity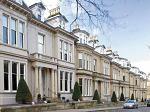 Hotel du Vin & Bistro Glasgow
SC 4 Star, 3 miles northwest of Glasgow centre at Devonshire Gardens. A luxury boutique hotel in a tree-lined Victorian terrace in the fashionable West End of Glasgow. Phone number 0141 378 0385.
Website . Reviews Offers G12 0UX

Glasgow Grosvenor Hotel
SC 4 Star, 2.4 miles northwest of Glasgow centre on Grosvenor Terrace. In the main part of the West End with many bar/diners and restaurants. The Botanic Gardens are across the road. Tel: 0141 339 8811.
Website . Reviews Offers G12 0TB

Argyll Hotel & Restaurant
SC 3 Star, 1.5 miles west of Glasgow centre on Sauchiehall Street. Quality accommodation at affordable rates.. Phone number 0141 337 3313.
Website . Reviews Offers G3 7TQ

Acorn Hotel Glasgow
VS 3 Star, 1.2 miles west of Glasgow centre on Elderslie Street. The hotel is beautifully decorated throughout with a very modern and tasteful theme throughout the hotel. Phone number 0141 332 6556.
Website . Reviews Offers G3 7AW

Kelvingrove Hotel Glasgow
VS 3 Star, 1.6 miles west of Glasgow centre on Sauchiehall Street. A Family run hotel with 22 en-suite rooms. Close to a number of tourist attractions and a selection of bars and restaurants. Tel: 0141 339 5011.
Website . Reviews Offers G3 7TH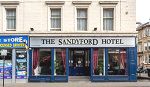 Sandyford Hotel Glasgow
SC 3 Star, 1.6 miles west of Glasgow centre on Sauchiehall Street. Family-run hotel with free wireless internet access, modern decor and reception is open 24 hours. Tel: 0141 334 0000.
Website . Reviews Offers G3 7TF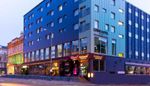 Lorne Hotel Glasgow
SC 3 Star, 1.6 miles west of Glasgow centre on Sauchiehall Street. Currently Closed. Tel: 0141 330 1555.
Reviews Offers G3 7TQ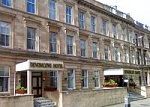 Devoncove Hotel Glasgow
SC 3 Star, 1.6 miles west of Glasgow centre on Sauchiehall Street. 91 Comfortable and affordable rooms with unlimited Wi-Fi access and Car Parking (subject to availability). Tel: 0141 334 4000.
Website . Reviews Offers G3 7TQ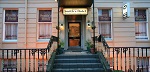 Smiths Hotel Glasgow
SC 2 Star, 1.6 miles west of Glasgow centre on Sauchiehall Street. Budget hotel with 42 well-appointed guest rooms ranging from single basic to family en-suite. Tel: 0141 339 7674.
Website . Reviews Offers G3 7TQ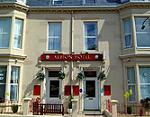 Albion Hotel Glasgow
VS 3 Star, 1.8 miles west of Glasgow centre on North Woodside. Ideal for both business travellers and holiday guests alike, suitable for short breaks or longer visits to Glasgow. Phone number 0141 339 8620.
Website . Reviews Offers G20 6NN

Clifton Hotel Glasgow
AA 3 Star, 2.3 miles northwest of Glasgow centre on Buckingham Terrace. There are 3 floors above the main reception room with 23 superbly appointed bedrooms. Phone number 0141 334 8080.
Website . Reviews Offers G12 8ED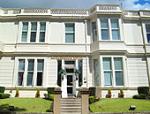 Ambassador Hotel Glasgow
VS 3 Star, 2.5 miles northwest of Glasgow centre on Kelvin Drive. The hotel is situated in a unique location, overlooking the River Kelvin and the Botanic Gardens.. Phone number 0141 946 1018.
Website . Reviews Offers G20 8QG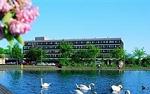 Leonardo Inn
SC 3 Star, 3 miles northwest of Glasgow centre on Great Western Road. The Pond Hotel is situated just minutes from Glasgow's bustling west. Phone number 0141 334 8161.
Website . Reviews Offers G12 0ZD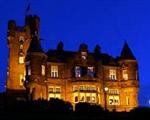 Sherbrooke Castle Hotel
VS 4 Star, 3 miles south of the city centre off Sherbrooke Avenue. The Hotel is a baronial building in landscaped gardens. The Sherbrooke combines traditional grace with modern efficiency. Phone 0141 427 4227.
Website . Reviews Offers G41 4PG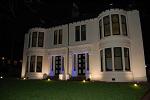 10 Hotel Glasgow
SC 4 Star, 3 miles south of Glasgow centre at Queens Drive. The hotel is a Victorian townhouse restored to provide stylish contemporary accommodation by Queens Park. Phone number 0141 424 0160.
Website . Reviews Offers G42 8BS
Ivory Hotel Glasgow
SC 2 Star, 3 miles south of Glasgow centre at Queens Park. An 1876 townhouse with views over Queens Park from the conservatory, 11 spacious, newly refurbished ensuite bedrooms. Phone number 0141 636 0223.
Website . Reviews Offers G41 3AY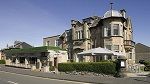 Orchard Park Hotel Bar + Grill
SC 3 Star, 5 miles south of Glasgow centre on Park Road. Large screen televisions, jacuzzi baths, luxury power showers, wireless internet connection, room service, onsite parking. Phone number 0141 638 1044.
Website . Reviews Offers G46 7LY

Redhurst Hotel & Restaurant
SC 2 Star, 5 miles south of Glasgow centre on Eastwoodmains Road. 24-hour reception, free Wi-Fi, free private parking, flat-screen TVs, telephone, bar and restaurant. Phone number 0141 638 6465.
Website . Reviews Offers G46 6QE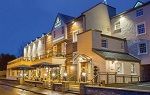 Busby Hotel & Restaurant
SC 3 Star, 7 miles south of Glasgow centre on Field Road. Modern hotel with a range of rooms and suits, restaurants and bars, free car parking. Phone number 0141 644 2661.
Website . Reviews Offers G76 8RX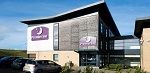 Premier Inn Newton Mearns
SC 3 Star, 9 miles south of Glasgow centre on Crookfur Road. Air condition, free parking, WiFi and restaurant. Phone number 0333 321 9236.
Website . Reviews Offers G77 6NE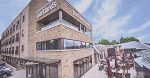 Parklands Hotel & Country Club
SC 4 Star, 10 miles south of Glasgow centre on Crookfur Road. Modern hotel with 30 bedrooms & suites, gym, spa, and free parking. Phone number 0141 639 9222.
Website . Reviews Offers G77 6DT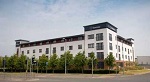 Travelodge Glasgow Braehead
SC Budget, 6 miles west of the Glasgow city centre on Kings Inch Road at Braehead. Situated close to the family amusement destination IntoBraehead and the large Braehead Shopping Centre. Tel: 0871 984 6372.
Website . Reviews Offers PA4 8ZL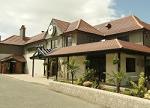 Crowwood Hotel & Diner
SC 3 Star, 7 miles northeast of Glasgow centre on Cumbernauld Road. The hotel is just a 10 minute drive from Glasgow City Centre, and a 25 minute drive from Stirling. Our clubhouse Bar & Grill has fantastic views of the Crowwood Golf course and campsie hills. Phone number 0141 779 3861.
Website . Reviews Offers G69 9BS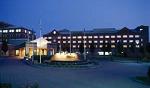 Golden Jubilee Conference Hotel
SC 4 Star, 8 miles west of Glasgow centre on Beardmore Street Clydebank. Ideal for a leisure break, Loch Lomond and the Trossachs National Park is just 20 minutes drive to the west. Phone number 0141 951 6000.
Website . Reviews Offers G81 4SA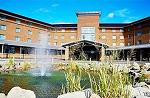 Hilton Strathclyde Hotel
SC 4 Star, 12 miles east of Glasgow centre on Phoenix Crescent / Bellshill. Situated between Glasgow and Edinburgh. The Hilton Strathclyde hotel has 6 business meeting rooms, swimming pool and gym, Tel: 01698 395 500.
Website . Reviews Offers ML4 3JQ