A list of Golf Courses that welcome visitors in the North of Scotland, up past Inverness.
Prices listed are only a guide, check the websites for up to date prices and offers.
Many clubs offer discounts for parties and rounds with catering included.
Click on Post-Codes for Maps & Directions.
Top Touring Courses: used to host The Open or other Major Tournaments.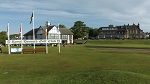 Royal Dornoch Golf Club
Links courses 43 miles north of Inverness at Dornoch. A Championship course that is regularly ranked in the top 15 top courses in the world. Yards 6514 par 73. Price guide about £125 - £210 round, or £30 - £50 on other course. Tel: 01862 810 219.
Website . IV25 3LW . Images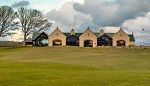 The Carnegie Club/ Skibo Castle
Parks course 41 miles north of Inverness by Dornoch. Claimed to be the top private residential sporting club in Scotland with an international membership. From 2008, visitor numbers have been restricted, parties have to apply by email. Yards 6,883 par 72. Tel: 01862 894 600. Price guide about £300 day.
Website . IV25 3RQ
Grade One Courses: almost as good as the Top Touring Courses with excellent facilities, some are used for Open Qualifying.
Brora Golf Club
Links course 57 miles north of Inverness at Brora, a Links course designed by James Braid, the most northerly golf course by James Braid in his native Scotland. Tel: 01408 621 417. Price guide about £95 round.
Website . KW9 6QS
Fortrose & Rosemarkie Golf Club
Links course 14 miles north of Inverness at Fortrose. A James Braid course designed within the narrow Chanonry peninsula, said to be a gem of a course by the sea. Price guide about £75 - £80 round. Tel: 01381 620 529.
Website. . IV10 8SE
Golspie Golf Club
Links course 12 miles north of Dornoch, 51 miles north of Inverness at Golspie. At the foot of Ben Bhraggie mountain in the Highlands of Scotland in one of the finest settings with blend of seaside links, heath and parkland golf. Price guide about £60 - £80 round. Tel: 01480 633 266.
Website . KW10 6ST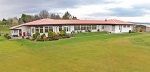 Tain Golf Club
Links course 34 miles north of Inverness at Tain. A Championship length links with views over mountains, sea and has a sheltered climate, allowing good golfing conditions most of the year. Tel: 01862 892 314. Price guide about £35 - £70 round.
Website . V19 1JE
Grade Two Courses: Less formal & less expensive than Grade One Courses, but still excellent courses.
Alness Golf Club
Parks course 21 miles north of Inverness at Alness. One of the Best Kept Secrets of the Highland, ideal for both beginners and seasoned players, open to visitors all year round. Price guide about £28 - £32 round. Tel: 01349 883 877.
Website . IV17 0QA
Invergordon Golf Club
Parks course 25 miles north of Inverness at Invergordon. One of Scotland's most scenic golf courses only half an hour drive from Inverness with views across the Cromarty Firth to distant mountains. Price guide about £40 round. Tel: 01349 852 715.
Website . IV18 0BD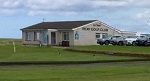 Reay Golf Club
Links course 11 miles west of Thurso, 104 miles north of Inverness at Reay. Nestling in Sandside Bay with excellent views to Beinn Ratha mountain and rolling hills. This location means the course is rarely closed even in the highland winter. Price guide about £50 day. Tel: 01847 811 288.
Website . KW14 7RE

Strathpeffer Spa Golf Club
Moorland course 19 miles northwest of Inverness at Strathpeffer. Panoramic views down the Peffery valley towards the Black Isle, one of the most scenic golf courses in the North of Scotland. Price guide about £20 - £40 round. Tel: 01997 421 219.
Website . IV14 9AS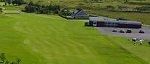 Thurso Golf Club
Parks course 111 miles north of Inverness at Thurso. Tree lined parkland course with lush fairways and well maintained greens. Price guide about £45 round. Tel: 01847 501 067.
Website . KW14 7XF
Wick Golf Club
Links course 3 miles north of Wick, 106 miles northwest of Inverness. A scenic course with a picturesque coastline with moderate green fees and a number of open competitions throughout the year. Price guide about £50 round. Tel: 01955 602 726.
Website . KW1 4RW
Durness Golf Club
Links/inland course 104 miles northwest of Inverness by Durness. The most North Westerly Course on the Mainland. Peter Alliss considered the course unique enough to include in his TV series Travels with Alliss, and also featured in the book Scotland's Gems by Malcolm Campbell. Price about £25 - £40. Tel: 01971 511 364.
Website . IV27 4PX . Images
Lybster Golf Club
Heathland/moorland course, 95 miles north of Inverness, 14 miles south of Wick at Lybster, one of the shortest 9 hole courses at 4,004 yards, popular with a wide range of golfers. The longest hole is only 318 yards, and shortest is only 90 yards. Price about £15 day. Tel: 01593 721 316.
Website . KW3 3BL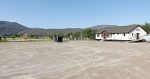 Ullapool Golf Club
Parks course 1 mile north of Ullapool, 58 miles northwest of Inverness. Opened in April 1998 by Prince Andrew and developed to the highest standards with great views of the Highlands of Scotland. Price about £20 for 9 holes £30 day. Tel: 01854 613 323.
Website . IV26 2TH . Images