List of Holiday Parks throughout the Highlands of Scotland with Websites, Images, Phone Numbers and links to Maps and Reviews.
Most of the Holiday Parks have activities to suit children. Many of the larger parks have bar/diners and entertainment venues.
Click on Post-Codes for Maps & Directions . Areas Attractions Click On Maps.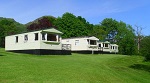 Appin Holiday Homes
15 miles north of Oban in Argyll pets certain homes only. Our holiday caravans and lodges offer superb panoramic views, overlooking Loch Creran. The Creagan Inn - a cosy lochside pub is only a five minute stroll away. Tel: 01631 730 287.
Website . PA38 4BQ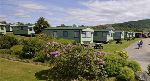 Tralee Bay Holidays
3 miles north of Oban in Argyll some pets allowed. Overlooking the picturesque Ardmucknish Bay the wooded surroundings and long sandy beach make Tralee the ideal destination for a peaceful self catering lodge or caravan holiday, any time of year. No entertainment or bar/diners. Tel: 01631 720 255.
Website . PA37 1QR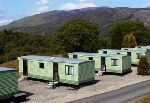 Gairlochy Holiday Park
13 miles south of Fort William pets allowed. We offer holiday peacful accommodation in Log Chalets, Caravans or touring pitches. We are a small family run business situated close to the Great Glen Way with spectacular views to Ben Nevis and the Nevis Range. No entertainment or bar/diners. Tel: 01397 712 711.
Website . PH31 4AG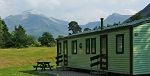 Glen Nevis Self-Catering Park
5 miles southeast of Fort William pets allowed some homes. Our range of holiday caravans are very well maintained and spaced with grassy areas, trees and shrubs. Tel: 01397 702 191.
Website . PH33 6SX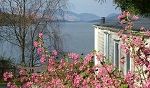 Linnhe Lochside Holidays
5 miles west of Fort William pets some holiday homes. Choose from an Alpine chalet, a caravan holiday home, a touring pitch or a camping pitch, for a fabulous peacful self-catering holiday in Scotland. No entertainment or bar/diners. Tel: 01397 772 376.
Website . PH33 7NL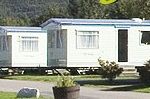 Ben Nevis Holiday Park
On the east side of Fort William no pets. An ideal holiday destination for peacful self-catering holidays in a luxury log chalet, apartment, or a modern, spacious, self contained residential caravan. No entertainment or bar/diners. Tel: 01397 703 446.
Website . PH33 7NF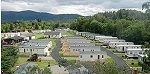 Aviemore Holiday Park
At Aviemore pets in some units. Our caravans are well insulated and heated, ideal for all year round use. Tel: 01479 810 236.
Website . PH22 1PX
Dalraddy Holiday Park
4 miles south of Aviemore pets in some holiday homes. Family park in 97 acres of mixed woodland with great views of the Cairngorm Mountains range. Tel: 01479 810 330.
Website . PH22 1QB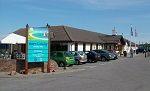 Nairn Lochloy Holiday Park
16 miles east of Inverness by Nairn pets allowed. Any time is beach time for our holiday guests at Nairn Lochloy, where you can step straight off the park, bare-footed, and onto golden sands. Activities, entertainment and bar/diners. Tel: 03443 352 272.
Website . IV12 5DE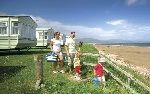 Grannie's Heilan Hame
3 miles north of Dornoch 46 miles north of Inverness pets allowed. This Grannie's got a heated indoor pool and a nine hole crazy golf, an adventure play park on the sand and direct access to legendary Embo beach. Entertainment and bar/diners. Tel: 03443 352 271.
Website . IV25 3QD