Below is a list of all Isle of Mull Hotels in Scotland with Websites, Phone Numbers, Images and links to Maps and Reviews
Tobermory is the largest town on the Isle of Mull. The main ferry link is from Oban with about seven crossings per day, 45 minute crossing time to the village of Craignure which is situated on the south side of the island, 20 miles south of Tobermory.
Visitor attractions on Mull include the impressive fortified Duart Castle by Craignure, the picture postcard town of Tobermory with it scenic harbour, museum, potery centre and whisky distillery, many remote villages including Fionnphort where you can catch the ferry to the small Island of Iona with its scenic Abbey and Chapel.
Another top visitor attraction is Fingals Cave on the uninhabited Island of Staffa (the Scottish part of what is known as the Giant's Causeway in Northern Ireland). Small boat trips depart from Fionphort and Iona, 45 minute travel time.
Mull Websites . Attractions List
VS = Visit Scotland Assessed . AA = Automobile Association Assessed . SC = Self Classified
Click on Post-Codes for Maps, Directions & best Booking Offers

Highland Cottage Hotel
VS 4 Star, 0.2 of a mile south of Tobermory centre on Breadalbane Street. An award-winning small hotel with a fine-dining restaurant sitting above Tobermory. Tel: 01688 302 030.
Website . Postcode: PA75 6PD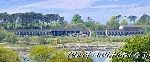 Isle of Mull Hotel & Spa
SC 4 Star, 20 miles south of Tobermory on the west coast by Craignure. Situated on Craignure Bay, is a Hotel & Spa with panoramic sea views, extensive spa facilities and award-winning gourmet food. Tel: 01680 812 544.
Website . Postcode: PA65 6BB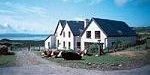 Ardachy House Hotel
SC 3 Star, 45 miles southwest of Tobermory on the west coast at Bunessan. Tucked away in rugged farmlands of a typical croft. The ferry terminal for the islands of Iona, Staffa with Fingal's Cave and Treshnish, is only 7 miles away. Tel: 01681 700 505.
Website . Postcode: PA67 6DS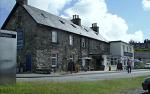 Bunessan Inn
SC 3 Star, 42 miles southwest of Tobermory at Bunessan. Accommodation, bar and restaurant facilities in the quiet village of Bunessan on the only route to and from the Iona Ferry landing, only 5 miles away at Fionnphort. Tel: 01681 700 240.
Website . Postcode: PA67 6DP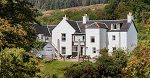 Bellachroy Inn
VS 3 Star, 7 miles southwest of Tobermory at Dervaig. The oldest Inn on Mull, a drovers Inn dating from 1608, renowned for quality home cooked food including many local seafood specialities. Tel: 01688 400 314.
Website . Postcode: PA75 6QW
Mishnish Hotel & Restaurant
SC 3 Star, in the centre of Tobermory on the Main Street. Situated on the sea front of Tobermory's busy yachting and fishing harbour with views over Tobermory bay. Although relatively small, the Mishnish is comfortably furnished and centrally heated. Tel: 01688 302 500.
Website . PA75 6NU . Large Image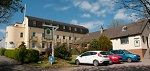 Park Lodge Hotel
SC 3 Star, 0.2 of a mile norhwest of Tobermory centre on Western Road. A family run Hotel with modern accommodation to suit all, from families to hill walkers and wildlife enthusiasts. Tel: 01688 302 430.
Website . Postcode: PA75 6RA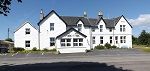 Salen Hotel
SC 3 Star, 10 miles south of Tobermory at Salen. An ideal base to explore the whole island. Our dining room, where we serve up a full Scottish breakfast, has panoramic views across the sound of Mull to the Hills of Morvern. Tel: 01680 300 324.
Website . Postcode: PA72 6JE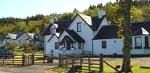 The Inn at Port nan Gael
SC 3 Star, 32 miles southwest of Tobermory at Pennyghael. A comfortable hotel & self-catering accommodation with all six letting rooms having en-suite facilities. Five of the rooms look out onto Loch Scridain or Ben More. Tel: 01681 704 288.
Website . Postcode: PA70 6HB

Tiroran House Hotel
SC 3 Star, 26 miles southwest of Tobermory on the west coast at Tiroran. A Remote and Romantichotel in 17 acres of its own secluded grounds on the north shore of Loch Scridain. Most of the rooms have stunning views of the gardens and loch. Tel: 01681 705 163.
Website . Postcode: PA69 6ES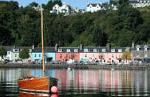 Tobermory Hotel & Restaurant
SC 3 Star, in the cntre of Tobermory on the Main Street. Converted from a row of fishermen's cottages, the hotel is situated on the waterfront of picturesque Tobermory Bay. Tel: 01688 302 091.
Website . PA75 6NT . Large Image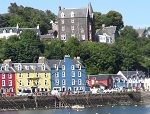 Western Isles Hotel
SC 3 Star, 0.2 of a mile northwest of Tobermory centre. Has a high position overlooking the Hebrides towards Tobermory Bay and the Sound of Mull. The 28 rooms all have en-suite facilities. Tel: 01688 302 012.
Website . Postcode: PA75 6PR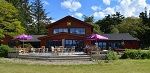 Glenforsa Hotel
SC 2 Star, 11 miles south of Tobermory at Salen. A perfect rural holiday retreat with fantastic panoramic views from the Hotel om its elevated position on the shoreline, frequented by Sea Eagles, Seals and Otters. Tel: 01680 300 377.
Website . Postcode: PA72 6JW