| | |
| --- | --- |
| All Edinburgh 3 Star Hotels | RS Home |
Below is a list of All Edinburgh 3 Star Hotels within 1 mile of the city centre with Photos , Websites , Phone Numbers , Postcodes and links to Maps and Top Reviews.
The area around Waverley Train Station is regarded as the centre of Edinburgh. The Tourist Information Centre is by the station and the main shopping area of Princes Street and Princes Gardens are next to the station, Edinburgh Castle looks over the station. The Edinburgh city Tour Buses depart from St Andrew Square a short walk west of Waverley.
VS = Visit Scotland Assessed . AA = Automobile Association Assessed . SC = Self Classified .
Click on Post-Codes for Reviews, Maps and Booking Offers may be available..

Abbey Hotel
VS 3 Star, 1 mile northeast of Waverley Train Station on Royal Terrace. The Abbey Hotel is a Georgian townhouse situated in a quiet tree-lined terrace in the city centre. The Hotel has been tastefully refurbished throughout. Phone number 0131 557 0022.
Website . Reviews Offers EH7 5AB
24 Royal Terrace Hotel
SC 3 Star, 1 mile northeast of Waverley Train Station on Royal Terrace. A traditional Georgian townhouse built in 1820, the Ailsa Craig Hotel is situated in a quiet tree-lined terrace in the city centre. Tel: 0131 297 2424.
Website . Reviews Offers EH7 5AH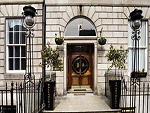 Ballantrae Hotel
SC 3 Star, 0.5 of a mile north of Waverley Train Station on York Place. The Ballantrae Hotel is a grade A listed building from the Georgian period refurbished to a high standard. There is 24-hour reception cover at all times. Phone number 0845 478 4748.
Website . Reviews Offers EH1 3EP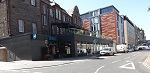 BrewDog DogHouse Edinburgh Hotel
SC 3 Star, 0.3 of a mile northeast of Waverley Train Station on New Street. 20 apartment style rooms with top-quality comfort, beer fridges, draft beer taps, record players and more. Phone number 0131 290 2300.
Website . Reviews Offers EH8 8BH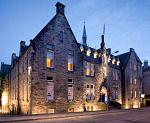 Leonardo Hotel Edinburgh City
SC 3 Star, 1 mile southwest of Waverley Train Station on Lauriston Place. Just a few minutes from the city centre and business district. Competitive rates with a classic contemporary interior. Phone number 0131 622 7979.
Website . Reviews Offers EH3 9HZ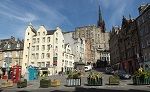 Grassmarket Hotel
SC 3 Star, 0.8 of a mile southwest of Waverley Train Station on the Grassmarket. In the lively cosmopolitian area of the Grassmarket with many fine pubs and clubs, including the adjoining Irish themed Biddy Mulligans Pub. Phone number 0131 220 2299.
Website . Reviews Offers EH1 2JR
Holiday Inn Express Edinburgh-Royal Mile
SC 3 Star, 0.5 of a mile southeast of Waverley Train Station on the Cowgate. An Edinburgh city hotel with air conditioned guestrooms and FREE Wi-Fi internet access. Phone number 0131 524 8400.
Website . Reviews Offers EH1 1NA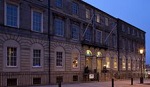 Holiday Inn Express Edinburgh-City Centre
SC 3 Star, 0.5 of a mile northwest of Waverley Train Station on Picardy Place. A fully non-smoking hotel with a stylish Lounge Bar. Phone number 0131 558 2300.
Website . Reviews Offers EH1 3JT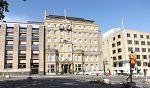 ibis Styles Edinburgh St Andrew Square
SC 3 Star, 0.3 of a mile west of Waverley Train Station on St Andrew Square. Prices include our buffet Continental breakfast, also with a bar and brasserie style restaurant. Phone number 0131 292 0200.
Website . Reviews Offers EH2 1AU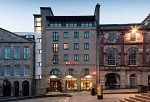 Ibis Edinburgh Hunter Square
SC 3 Star, 0.4 of a mile southeast of Waverley Train Station on Hunter Square. The hotel has 99 rooms, 6 adapted for disabled guests, a bar serving snacks 24/7 and Wifi Internet access for guests. Public parking is a 10 min walk from the hotel, with reductions for clients. Phone number 0131 619 2800.
Website . Reviews Offers EH1 1QW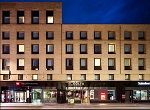 Ibis Edinburgh South Bridge
SC 3 Star, 0.4 of a mile east of Waverley Train Station on South Bridge. 24hr bar, fibre Wi-Fi is free, and a beautiful outdoor courtyard. Phone number 0131 292 0000.
Website . Reviews Offers EH1 1HN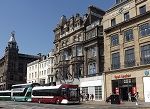 Hotel Indigo
SC 3 Star, on the west side of Waverley Train Station on Princes Street. Victorian building with stunning views of Edinburgh Castle and the Old Town skyline. Phone number 0131 556 4901.
Website . Reviews Offers EH2 2AN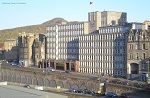 Leonardo Royal Hotel Edinburgh
SC 3 Star, 0.3 of a mile east of Waverley Train Station on Jeffrey Street, formerly Jurys. Only minutes from Waverly Train Station, Princes Street, Edinburgh Castle and Holyrood Palace. Phone number 0131 200 3300.
Website . Reviews EH1 1DH . Image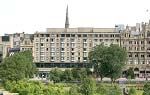 Mercure Hotel Princes Street
SC 3 Star, 0.2 of a mile northwest of Waverley Train Station on Princes Street. Ideal for shopping on Princes Street or doing business in our four meeting rooms with wireless internet access. Phone number 0131 342 1013.
Website . Reviews Offers EH2 2DG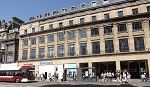 Motel One Edinburgh Princes
SC 3 Star, 0.2 of a mile west of Waverley Train Station on Princes Street. Close to all the city centre attractions with views over Edinburgh Castle. Phone number 0131 550 9220.
Website . Reviews Offers EH2 2AN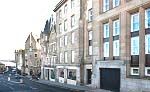 Motel One Edinburgh Royal
SC 3 Star, 0.2 of a mile east of Waverley Train Station on Market Street. Budget design hotel close to all the city centre attractions. Phone number 0131 220 0730.
Website . Reviews Offers EH1 1BL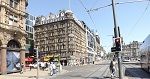 Old Waverley Hotel & Restaurant
SC 3 Star, in the very centre of Edinburgh on Princes Street, just a short walk from Waverley train station and overlooking Edinburgh Castle. Mny rooms have incredible views to the castle, historic Old Town, and Princes Street Gardens. Phone number 0131 556 4648.
Website . Reviews EH2 2BY . Image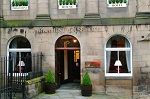 Parliament House Hotel
SC 3 Star, 0.6 of a mile northeast of Waverley Train Station on Calton Hill. A traditional budget Edinburgh hotel with a high standard of accommodation, personal service, and a top location. Tel: 0131 478 4000.
Website . Reviews Offers EH1 3BJ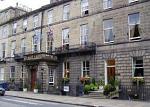 Royal Scots Club Hotel
SC 3 Star, 0.7 of a mile northwest of Waverley Train Station on Abercromby Place. The Royal Scots Club welcomes both members and non-members for bed and breakfast accommodation, meeting and events facilities, as well as The Club's Dining Room. Tel: 0131 556 4270.
Website . Reviews Offers EH3 6QE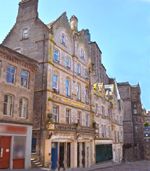 The Inn Place
SC 3 Star, 0.2 of a mile east of Waverley Train Station on Cockburn Street. 29 guest bedrooms Twin, Double or King Size beds and two large bedrooms with bunk beds. Phone number 0131 526 3780.
Reviews Offers EH1 1NY