| | |
| --- | --- |
| All Edinburgh 5 Star Hotels | RS Home |
Listing of All Edinburgh 5 Star Hotels within 1 mile of the city centre with Images , Websites , Phone Numbers , Postcodes and links to Maps and Top Reviews.
The area around Waverley Train Station is regarded by most people as being the centre of Edinburgh. The Tourist Information Centre is next to the Station and the main shopping area of Princes Street and Princes Gardens are next to the Station, Edinburgh Castle sits high above the Station. The city Tour Buses depart from St Andrew Square a short walk west of a the Train Station.
VS = Visit Scotland Assessed . AA = Automobile Association Assessed . SC = Self Classified.
Click on Post-Codes for Reviews, Maps and Booking Offers may be available..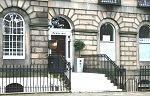 21212 / Restaurant with Rooms
SC 5 Star, 0.8 of a mile north of Waverley Train Station on Royal Terrace. Four beautifully appointed large bedrooms, with dedicated lounge areas giving views over the gardens to the rear and stunning views of Edinburgh to the front. Phone number 0131 523 1030.
Website . Reviews Offers EH7 5AB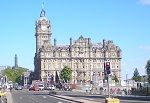 Balmoral Hotel & Restaurant
VS 5 Star, 0.1 of a mile north of Waverley Train Station on Princes Street. The Balmoral has 188 suites and stylish rooms with views towards Edinburgh Castle, the Old Town, or the hotel's internal courtyard. Phone number 0131 556 2414.
Website . Reviews EH2 2EQ . Image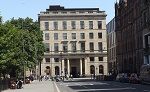 Cheval The Edinburgh Grand Hotel
SC 5 Star, 0.2 of a mile northwest of Waverley Train Station on St Andrews Square. All apartment hotel with a bar lounge on the fourth floor serving food all day. Phone number 0131 230 0570.
Website . Reviews EH2 2AD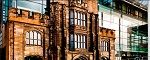 Glasshouse Hotel
SC 5 Star, 0.6 of a mile north of Waverley Train Station on Greenside Place. Floor-to-ceiling windows, beds so big you'll slumber sweet, the crispest Egyptian cotton bed linen, baths built to soak in long and deep. Modern glass building with an old church front. Phone number 0131 525 8200
Website . Reviews Offers EH1 3AA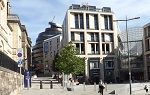 W Edinburgh
SC 5 Star, 0.3 of a mile northwest of Waverley Train Station at St James Quarter. Modern spiral hotel and spa for 360 views at the heart of a shopping centre opened late 2022. Phone number
Website . Reviews Offers EH1 3AA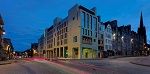 Radisson Collection Royal Mile
VS 5 Star, 0.4 of a mile southeast of Waverley Train Station on George 1V Bridge. One of the newest hotels in Edinburgh ovelooking the Royal Mile, only a short stroll up to the castle. Modern interior, rooms and suites. Phone number 0131 220 6666.
Website . Reviews Offers EH1 1AD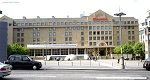 Sheraton Grand Hotel & Spa
VS 5 Star, 1 mile southwest of Waverley Train Station on Festival Square. With views over the historical Edinburgh Castle, we are the perfect base for shopping, Princes Street, and Edinburgh's financial district –The Exchange. Phone number 0131 229 9131.
Website . Reviews EH3 9SR . Image
Waldorf Astoria Edinburgh
VS 5 Star, 0.6 of a mile southwest of Waverley Train Station on Princes Street. The Waldorf Astoria Caledonian Hotel has views over Edinburgh Castle and 3 blocks from the Convention Centre (EICC). Has a gym, indoor heated pool & spa. Phone number 0131 222 8888.
Website . Reviews Offers EH1 2AB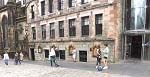 Witchery by the Castle / Restaurant with Rooms
SC 5 Star, 0.5 of a mile southeast of Waverley Train Station on Castlehill next to Edinburgh Castle. The Witchery by the Castle has eight fabulously original and indulgent suites. Phone number 0131 225 5613.
Website . Reviews Offers EH1 2NF
Howard Hotel & Restaurant
SC 5 Star, 0.8 of a mile northwest of Waverley Train Station on Great King Street. Currently Closed.
Reviews Offers EH3 6QH