A list of Golf Courses that welcome visitors in Central Scotland.
The Reviews/Offers links give reviews and may give cut price offers such as: Accommodation and Golf combined.
Prices listed are only a guide to a round in summer, autumn, spring & winter prices can be up to half price.
Many clubs offer discounts for parties and rounds with catering included.
Click on Post-Codes for Maps, Directions and Reviews.
Grade One Courses
Buchanan Castle Golf Club parks course 20 miles north of Glasgow. The course is situated close to Loch Lomond and the picturesque village of Drymen. It was designed in 1936 by James Braid to suit players of all levels with an intriguing but fair challenge. Price guide about £44 - £48 roud. Tel: 01360 660 330.
Website . G63 OHY . Review/Offers
Grade Two Courses: Less formal & less expensive than Grade One Courses, but still excellent courses.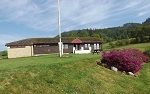 Aberfoyle Golf Club parks course 10 miles southwest of Callander. At the foot of the Menteith Hills, one of Scotland's most scenic and interesting golf courses. Situated about 25 miles from Glasgow, and 15 miles from Stirling. Price guide about £20 - £25 round. Tel: 01877 382 493.
Website . FK8 3UY . Reviews

Bridge Of Allan Golf Club parks course 3 miles north of Stirling. A nine hole picturesque course designed by Old Tom Morris with magnificent views including Stirling Castle, the Wallace Monument, the Perthshire hills and Ben Lomond mountain. Price guide about £20 round. Tel: 01786 832 332.
Website . FK9 4LY . Reviews

Callander Golf Club parks course east side of Callander. A secluded location with diverse holes, great greens and stunning views of Ben Ledi and the Trossachs. Price guide about £35 round. Tel: 01877 330 090.
Website . FK17 8EN . Reviews

Dunblane New Golf Club parks course on the east side of Dunblane. A quality parkland course designed by Major Cecil Hutchison and James Braid with lush fairways, manicured greens and wonderful views in all directions. Price guide about £35 - £45 round. Tel: 01786 821 520.
Website . FK15 0LJ . Reviews
Falkirk Golf Course/Carmuirs parks course 2 miles northwest of Falkirk. Locally as Carmuirs, a fairly level parkland course slightly undulating over the back nine. Price guide about £25 - £40 round. Tel: 01324 611 061.
Website . FK2 7YP . Reviews
Falkirk Tryst Golf Club parks course 3 miles northwest of Falkirk. Formed in October 1885, the course is one of the best tests of golf in the Area with a superb layout. Price guide £20 - £40 round. Tel: 01324 570 436.
Website . FK5 4BD . Reviews

Glenbervie Golf Club parks course 4 miles northwest of Falkirk. A parkland course with mature trees and great views of the Ochil Hills. Glenbervie has been used by the R&A for many years as a regional qualifying venue for the Open. Price guide about £40 round. Tel: 01324 562 605.
Website . FK5 4SJ . Reviews

Stirling Golf Club parks course on the west side of Stirling. The course has one of golf's most spectacular backdrops of Stirling Castle. Set in the Kings Park, the golf course is of outstanding quality and beauty. Price guide about £35 round. Tel: 01786 464 098.
Website . FK8 2QY . Reviews
Strathendrick Golf Club parks course 19 miles north of Glasgow by Drymen. Within Loch. Lomond and The Trossachs National Park, the Course was designed by Willie Fernie of Troon in 1901 with breathtaking views of Ben Lomond and the Campsie Hills. Price guide about £15 for 18 holes. Tel: 01360 660 733.
Website . G63 0AA . Reviews