A list of Coach and Walking Tours around Glasgow and throughout Scotland from Glasgow with websites and phone numbers. George Square is the Centre of Glasgow. The Postcodes give Maps and Reviews.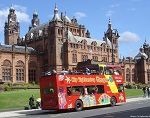 City Sightseeing bus tours Glasgow
Depart George Square. Double decker buses that operate regularly from 0930 until 1630 taking in the top attractions around the city. The main stop is at George Square in Glasgow centre, but you can board the bus at any attraction along the route and pay on boarding. Tel: 0141 204 044.
Website . G2 1BA . Large Image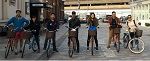 Glasgow Bike Tours
The tours allow you to visit locations where you can see spectacular views of the city, not possible by bus or car. Tel: 07786 683 445.
Website . G4 0UT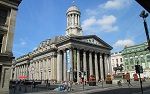 Glasgow Gander
Tours of the City Centre and out to Glasgow Cathedral for information on how the City evolved and architecture. Tours depart from next to the Gallery of Modern Art as seen right, close to George Square. Tel: 07516 554 828.
Website . G1 3AH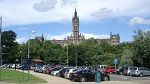 Glasgow Tours : Bairds Walks
Walking tour of the West End where there is the University as seen right, Kelvingrove Museum, Botanic Gardens, and where many of the rich Bankers and Traders built their homes. Tel: 0141 337 3313.
Website . G3 7TQ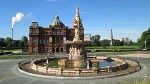 GreetinGlasgow Walking Tours
Of the East End. Guided walks off the tourist trail to explore the hidden history of Glasgow, starts from the Doulton Fountain at the Peoples Palace in Glasgow Green as seen right.
Website . Reviews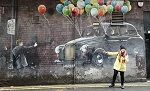 Walking Tours in Glasgow
A range of tours such as City Centre Street Art, Dark History, Film Locations, and more. Tel: 0141 474 0746.
Website . G2 4HW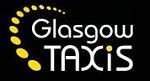 Charles Rennie Mackintosh tour
Taxi tour of Glasgow. The Mackintosh Tour is a full day excursion visiting all the Charles Rennie Mackintosh buildings in Glasgow. The tour gives time in some of the buildings, and stops for lunch at the famous Willow Tearooms in Sauchiehall Street, or the House for an Art Lover. Tel: 0141 429 7070.
glasgowtaxis.co.uk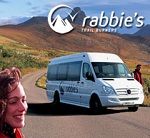 Rabbie's Tours Glasgow
1,2,3,4 & 5 day tours to some of Scotlands most visited attractions. Office on George Street by George Square, with departures from Buchanan Bus Station. Tel: 0131 226 3133.
Website . G1 1QX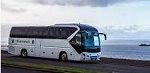 Timberbush Tours
1, 2 & 3 day tours to most of Scotlands top attractions. Glasgow bookings can be made by the website, phone or from the Scotland iCentre at 158 Buchanan Street. Coaches from 10 to 53 seats. Tel: 0131 226 6066.
Website . G2 3NX
See also Boat Trips for more tours of Glasgow.
See also Viator for day trips from Glasgow.
Glasgow is ideally situated for Train or Bus trips to other Scotland cities or towns, see Trains or Buses for travel times and price guides.