A list of Golf Resorts in Scotland.
Many Golf Resorts offer good deals on their own websites, you can also follow the Reviews/Offers links for reviews and may give cut price offers such as: Accommodation and Golf combined as well. This website allows you to compare deals.
Click on Post-Codes for Maps, Directions and Reviews.
Old Course Hotel east central Scotland at St Andrews. STB 5 Star, 0.6 miles north of St Andrews centre. This resort hotel overlooks the the Old Course and across to the sea. It's an informal haven of luxury, hospitality and fine dining. The website offers packages on a number of St Andrews courses. Tel: 01334 474 371.
Website . KY16 9SP . Reviews . Image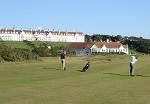 Turnberry southwest Scotland 17 miles south of Ayr. Turnberry has three golf courses including the Ailsa course that hosts the Open. There is also a driving range and golf academy. Golf packages include accomodation in the 5 star hotel or in the lodges between the hotel and golf courses. Tel: 01655 331 000.
Website . KA26 9LT .Reviews . Image
Carnoustie east central Scotland 11 miles northeast of Dundee. Carnoustie Golf Links has three courses The Championship, The Burnside and Buddon Links. The Championship course is said to be the toughest test in Open golf. Situated in the town of Carnousti. The 4 Star hotel overlooks the championship course. Packages for the hotel and golf are available on the website. Tel: 01241 411 999.
Website . DD7 7JE . Reviews . Image
Gleneagles east central Scotland by Auchterarder. Gleneagles 5 Star Hotel & golf resort has some of the world's finest golf courses with three championship golf courses, the King's, the Queen's, and the PGA Centenary Course created by Jack Nicklaus. The Scottish Open has been played here many times. Tel: 01764 662 231.
Website . PH3 1NF . Reviews

Fairmont St Andrews east central by St Andrews. A 5 Star hotel with two stunning golf courses with breathtaking views of the Eden estuary and St Andrews. Fairmont St Andrews is a top conference and leisure destination. Situated 4 miles south of St Andrews, 52 miles north of Edinburgh. Tel: 01334 837 000.
Website . KY16 8PN . Reviews
Dalmahoy Hotel & Country Club 7 miles southwest of Edinburgh. Marriott Dalmahoy Hotel & Country Club is in 1,000 acres of parkland, just 7 miles from the centre of Edinburgh. Has two 18-hole golf courses, a PGA-approved golf academy, gym, indoor pool, spa and tennis. Tel: 0131 333 1845 .
Website . EH27 8EB . Reviews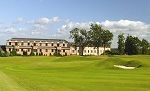 Westerwood Hotel & Golf Resort 15 miles norththeast of Glasgow. An 18 hole championship golf course with spectacular views over the surrounding Campsie Hills. Stay and play packages available. Tel: 01236 457 171. .
Website . G68 0EW . Reviews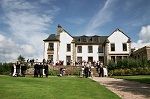 Gleddoch House Hotel and Golf Club 18 miles west of Glasgow. A 6,350 yard, 18 hole Championship Parkland/ Heathland Golf Course with superb views over the Clyde Estuary and Ben Lomond mountain. Prices for Golf & Hotel packages can be found on the website. Tel: 01475 540 711.
Website . PA14 6YE . Reviews
The Cally Palace southwest Scotland by Gatehouse of Fleet. The 4 Star Cally Palace Mansion Hotel has an 18 hole parkland golf course designed by Tom Macaulay. The challenging course is for the exclusive use of guests with a welcoming atmosphere. Situated about 30 miles south west of Dumfries at Gatehouse of Fleet. Tel: 01557 814 341.
Website . DG7 2DL . Reviews