A list of Scotland Castles to Visit with Websites, Images, Telephone Numbers, Postcodes and links to Maps and Reviews.
Edinburgh and Stirling Castles were the only Scottish Castles built to withstand attacks from English armies. All other castles in Scotland were built only to withstand attacks by neighbouring Clans. Disputes between Scottish Clans could last for hundreds of years, leading to tit for tat murders of many prominent Clan members. Sometimes, marriage was used to end disputes, and by the 1700s, murdering a neighbour could lead to you being hauled through the courts and sentenced to a gruesome death.
The Union between Scotland and England in 1707, made Scotland a safer place, and the last battle on the Scottish mainland was the Battle of Cullodon Moor 16th April 1746. From this time, Scotland Castles were replaced by Mansions, or had mansions built onto the side of the castles. Some mansions were built to look like castles, but had little defence.
Most Scottish Castles charge between £8 & £16 per adult to visit. Some offer entry to the gardens only at reduced cost.
Click on Post-Codes for Maps, Directions & Reviews. Large Map showing the Castles.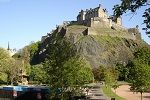 Edinburgh Castle. Edinburgh Castle is situated in the centre of Edinburgh overlooking Princess Street and Gardens. This is the most visited tourist attraction in Scotland. Phone number 0131 225 9846.
Website . RS Page . EH1 2NG
Stirling Castle. In the centre of Stirling with views over the town. A number of Scottish Kings and Queens have been baptised, crowned, or died within or near the Castle. At least one King was murdered nearby, while another committed murder inside. Phone 01786 450 000.
Website . RS Page . FK8 1EJ . Image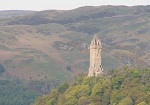 The National Wallace Monument, by Stirling. The Monument is packed with fascinating exhibits and displays, one of Scotlands top attractions, where you can find information on Scotland's national hero, William Wallace. Phone number 01786 472 140.
Website . RS Page . FK9 5LF . Image
Balmoral Castle, at Crathie by Aberdeen. The foundation stone for Balmoral Castle was laid by Queen Victoria September 28th 1853. The castle is now used as a holiday home by the royals. Aituated mid way between Ballater and Braemar, 50 miles west of Aberdeen. Phone number 01339 742 534.
Website . Hotels . AB35 5TB . Image
Blackness Castle, by Edinburgh. Blackness Castle is a 1400s fortress with a harbour on the firth of Forth, used by Royals to keep control of the waters around Edinburgh and to suply their Linlithgow Palace. Situated 18 miles west of Edinburgh. Phone number 01506 834 807.
Web . RS Page . Hotels . EH49 7NH
Blair Castle, Blair Atholl, Perthshire. Blair Castle is the ancient seat of the Dukes and Earls of Atholl. The castle has one of Scotland's finest settings, in Highland Perthshire. Situated 35 miles north of Perth, 7 miles north of Pitlochry. Phone number 01796 481 207.
Website . Hotels . PH18 5TL
Brodick Castle, Island of Arran. The castle is situated above Brodick Bay, and under Goatfell mountain, the top visitor attraction on the island with grand interiors and fine gardens. Arran is probably the most scenic island in Scotland. Phone number 0844 493 2152.
Web . AS Page . Hotels . KA27 8HY
Castle of Mey, by John O'Groats. The most northerly castle on the British mainland that was restored by the Queen Mother, and created the beautiful garden seen today. The Queen Mother spent many summers here. Situated 6 miles west of John O'Groats. Phone number 01847 851 473.
Website . Hotels . KW14 8XH
Culzean Castle, by Maidens/Ayrshire. The National Trust for Scotland's top visitor attraction. The Castle, Gardens, Visitor Centre, Shops and Restaurants are open daily from Friday 30 March until Wednesday 31 October. Phone 01655 884 455.
Web . AS Page . KA19 8LE . Image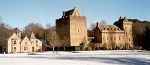 Dean Castle, Kilmarnock/ Ayrshire. Robert the Bruce awarded these lands to the Boyds who married into royalty when the sister of James III married a Boyd. The local authaurities now maintain the estate and castle, free tours available most days. Phone number 01563 554 743.
Website . AS Page . KA3 1XB . Image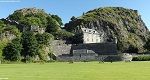 Dumbarton Castle, south side of Dumbarton Town. Dumbarton Castle is said to have the longest recorded history of any fortress on the British Isles. The castle was built on volcanic basalt known as Dumbarton Rock, 240 feet in height. Phone number 01389 732 167.
Website . UDS Page . Hotels . G82 1JJ . Image
Dunrobin Castle, situated about 52 miles north of Inverness. Dunrobin Castle has been home to the Earls and Dukes of Sutherland since the 1200s. The castle can be visited 1st April to 15th October, entry price about £9 per adult. Phone number 01408 633 177.
Website . Hotels . KW10 6SF .
Drumlanrig Castle, by Thornhill in Dumfriesshire. Drumlanrig is an historic castle with a rich history and filled with historic arifacts. The Estate and Gardens are one of the top visitor attractions in South Scotland. Situated about 17 miles north of Dumfries. Phone number 01848 331 555.
Web . RS Page . Hotels . DG3 4AQ
Dundonald Castle, Dundonald by Troon/ Ayrshire. Dundonald Castle is a fortified tower house built for Robert II after becomming king of Scotland in 1371. The castle was used as a royal residence by the Stewart kings for 150 years. Phone number 01563 851 489.
Web . UDS Page . Hotels . KA2 9HD . Image
Dunnottar Castle, by Stonehaven in Aberdeenshire. Dunnottar Castle is a ruined cliff top fortress, built out on rocks, in an extremely scenic setting. Situated about 1 mile south of Stonehaven, 15 miles south of Aberdeen. Phone number 01569 762 173.
Web . RS Page . Hotels . AB39 2TL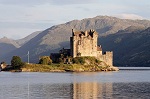 Eilean Donan Castle, West Highlands on the road to the Isle of Skye. Eilean Donan Castle is one of the most recognised in Scotland, but also one of the most remote, situated on an island at the point where three sea lochs meet. Tel: 01599 555 202. Photo by Guillaume Piolle.
Website . Hotels . IV40 8DX . Image
Falkland Palace, in the town of Falkland 40 miles north of Edinburgh. Once a royal palace of the Scottish Stewart Kings, Falkland Palace is where James V died in 1542, aged 30. At the time of his death, his wife Marie de Guise was giving birth to their daughter Mary Queen of Scots, at Linlithgow Palace. Mary stayed at Falkland in 1563 and 1565. Phone number 01337 857 397.
Web . RS Page . Hotels . KY15 7DA
Floors Castle, by Kelso/Borders. The impressive Floors Castle was built by William Adam for the 1st Duke of Roxburghe in 1721. Situated 1 mile west of Kelso. Phone number 01573 223 333.
Website . Hotels . TD5 7RW
Glamis Castle, by Dundee. Glamis was the childhood home of Her Majesty Queen Elizabeth, the Queen Mother, birthplace of Princess Margaret and the setting for Shakespeare's play Macbeth. Glamis Castle is situated about 12 miles north of Dundee. Phone number 01307 840 393.
Web . RS Page . Hotels . DD8 1RJ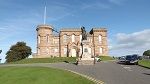 Inverness Castle, in the centre of Inverness. An 1836 castle sitting high above the city, recently opened for tours with great views over Inverness. There were earlier castles on thi site from 1057 and 1548. Phone number 01463 237 114.
Wiki Page . Hotels . IIV2 3EG
Linlithgow Palace, Linlithgow by Edinburgh. The roofless remains of Linlithgow Palace are situated between the centre of Linlithgow town and Linlithgow Loch. Birthplace of Mary Queen of Scots. Situated in the centre of Linlithgow 18 miles west of Edinburgh. Phone number 01506 842 896.
Web . RS Page . Hotels . EH49 7AL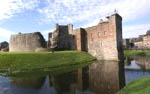 Rothesay Castle, on the Isle of Bute in the ferry town of Rothesay. The historic castle dates back to the early 1200s with an unusual circular plan and moat. The castle was built by the Stewart's, survived Norse attacks, and was a royal residence. Phone number 01700 502 691.
Web . RS Page . Hotels . PA20 0DA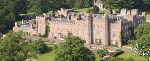 Scone Palace, 3 miles north of Perth centre. One of the places where Scots Kings were crowned on a famous stone. A place of power and mystery, home of the Stone of Scone, also known as the Stone of Destiny. Phone number 01738 552 300.
Web . RS Page . Hotels . PH2 6BD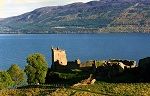 Urquhart Castle, by Inverness. Urquhart Castle is one of the most visited castles in Scotland as it is situated next to the Loch Ness Monster Visitor Centre and boat trips at the Village of Drumnadrochit. An impressive ruin with interesting history. Situated 16 miles southwest of Inverness. Phone number 01456 450 551.
Web . UDS Page . Hotels . IV63 6XJ