A list of the most popular Bar Diners in Edinburgh with Images, Websites, Phone Numbers and links to Maps and Reviews.
Most of these Edinburgh Bar Diners serve drinks and meals throughout the day, then in the evening, become popular bars for drinks and parties. Some Bars / Diners provide entertainment at night, such as live music, karaoke, and quizzes.
The Royal Mile Bar Diners. The Royal Mile is actually five streets that run from Edinburgh Castle down to the Palace of Hollyrood. They are Castlehill, Lawnmarket, High Street, Cannongate, and Abbey Strand.
Click on Post-Codes for Maps & Reviews.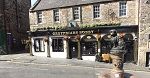 The Greyfriars Bobby
30-34 Candlemaker Row, off the Royal Mile, Edinburgh City Centre. A popular tourist bar diner due to the statue of Scotland's most famous dog out front, and its masters grave yard behind. Food is served from an extensive menu including breakfast, main meals and snacks. Follow the street named George 1V Bridge off the Royal mile just above St Giles Cathedral. Tel: 0131 225 8328.
Website . EH1 2QE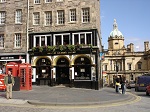 Deacon Brodie's Tavern
435 Lawnmarket, Royal Mile. A traditional pub known for its range of real ales and classic pub food. This Edinburgh tavern is named after William Brodie, one of the inspirations for Robert Louis Stevenson's Jekyll and Hyde. Brodie was a respectable citizen from Edinburgh hanged in 1788 for burglary to pay off gambling depts. Tel: 0131 225 6531.
Website . EH1 2NT . Image
The Worlds End
4 High Street/Royal Mile, City Centre. An historic Bar Diner offering a selection of real ales and an excellent choice of food. The bar name came about as it stands where a main gate entered the old city walls, the world ends and Edinburgh begins. Tel: 0131 556 3628.
Website . EH1 1TB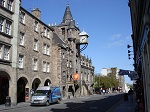 Tolbooth Tavern
167 Canongate, Royal Mile, City Centre. A cozy tavern that has been part of the Edinburgh Tolbooth since 1820. The Tolbooth was a tax-collection point, court and jail for the burgh of Canongate, just outside the old walls of Edinburgh. Meals are served till 1500 and there are some entertainment nights and a quiz night on Sunday. Has a resident ghost that is blamed for any drinks knocked over. Tel: 0131 557 1333.
Website . EH8 8BN . Image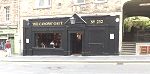 The Canons Gait
232 Canongait, Royal Mile, City Centre. On two levels with a large bar/diner on the street level, and a large function room below. A choice of real ales and food is freshly prepared on the premises. The name originated from Canons of the monastery at Holyrood, founded in 1128, traveling between the monastery and the old walls of Edinburgh, with the route becoming known as the Canons Way or Canons Gait. Tel: 0131 556 4481.
EH8 8DQ . Image
There are a few more bar diners on the Royal Mile.
George Street Bar Diners. One of the main streets situated just behind Princes Street.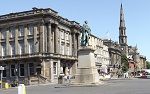 All Bar One George Street
29 George Street, City Centre. A chain bar/diner, one of many situated throughout the UK, each with a stylish place to enjoy some fabulous food and drink. Tel: 0131 226 9971.
Website . EH2 2PA
Bar Soba
104 Hanover Street, just off George Street. Bar Diner serving Asian street food and coctails. Tel: 0131 225 6220.
Website . EH2 1DR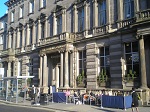 The Standing Order Edinburgh
62 George Street. This Wetherspoon bar diner takes its name from its former use as the Union Bank of Scotland. The building was designed between 1874-1878, in a neo-classical style. Inexpensive food and drink in a nice setting. Tel: 0131 225 4460.
Website . EH2 2LR . Image
Kitty O'Sheas Edinburgh
43B Frederick Street just off George Street. An Irish Pub for drinks, sport and live music, no food. Tel: 0131 226 2224.
Website . EH2 1EP
Candy Bar & Diner
113 George Street. A subterranean drinking den for cocktails, DJs, quiz night, events and tasty inexpensive food such as pizza, burgers, nachos, fajitas and more. Tel: 0131 225 9179.
Website . EH2 4JN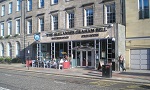 The Alexander Graham Bell
128 George Street, City Centre. A large modern Edinburgh Wetherspoon bar diner situated in the trendy George Street. Inexpensive food and drink. Tel: 0131 240 8220.
Website . EH2 4JZ . Image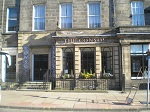 The Garden at the Kimptom
38 Charlotte Square, corner of George Street, City Centre. The Kimpton Hotel's stylish The Garden bar diner is an Urban Oasis. Tel: 0131 527 4655.
Website . EH2 4HQ
Rose Street bar diners. A narrow street just behind Princes Street and before George Street.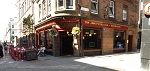 The Abbotsford
3 Rose Street, City Centre. As one of Edinburgh's finest traditional bars with food served in the main bar, or in the first floor Above Restaurant, serving the finest freshly prepared Scottish seafood and beef dishes. Tel: 0131 225 5276.
Website . EH2 2PR . Image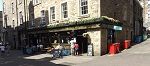 Milnes
35 Hanover Street & Rose Street corner. A wide range range of real ales, malt whiskies and traditional pub food is served throughout the day. The building was built about 1790 as the home of an advocate. By the mid 1900s, it had become a bar known as Daddy Milnes, a meeting place for top Scottish literary figures of the day. Tel: 0131 225 6738.
Website . EH2 2PJ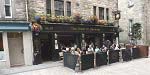 Rose Street Brewery
55 Rose Street, City Centre. A bar diner on the ground floor and the Brewhouse Restaurant is on the first floor. The first floor was once home to the brewery that produced the famous Auld Reekie Ale. Tel: 131 220 1227.
Website . EH2 2NH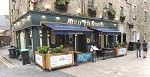 Auld Hundred
100 Rose Street, City Centre. Providing traditional Scottish hospitality and serving fantastic traditional pub food in Edinburgh's city centre. Tel: 0131 225 1809.
Website . EH2 2NN
Dirty Dick's
159 Rose Street, City Centre. A traditional bar diner at the west end of Rose Street, opened in 1859. Serves real ales, malt whiskies and traditional pub food with a classy edge from lunchtime onwards. Tel: 0131 260 9920.
Postcode: EH2 4LS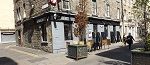 Fierce Beer
167 Rose Street, City Centre. Meals and Scottish Beer served all day. Tel: 0131 322 2552.
Website . EH2 4LS
Other popular Edinburgh Centre bar diners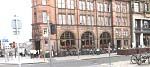 Tiles
1 Saint Andrew Square, north end of George Street, City Centre. An impressive bar diner in the former Prudential Insurance building. Real ales are popular and the food includes Scottish and continental cuisine. There is outdoor seating with views over St Andrews Square. Tel: 0131 557 3228.
Website . EH2 2BD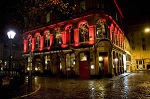 The Voodoo Rooms
19a West Register Street short walk northeast of St Andrews Square, City Centre. An award-winning venue opened in November 2007 with the aim of boosting the city's vibrant bar, restaurant and live music scene. Open till 1am 7 days. Tel: 0131 556 7060.
Website . EH2 2AA
Omni Centre Edinburgh
28 Greenside Row, a short walk northeast of St Andrews Square or the north end of Princes Street. Has Restaurants and Bar Diners such as: Cosmos, Nandos, Slug & Lettuce, Tony Macaroni, and Wetherspoons. The centre also has a 300 capacity for comedy acts, and a 12 screen View Cinema. Tel: 0131 524 7770 .
Website . EH1 3AA
The Boozy Cow
17 Frederick Street, between Princes Street and Rose Street, City Centre. Mouth watering burgers, milkshakes, cocktails and ice cold refreshing craft beers. Tel: 0131 226 6055.
Website . EH2 2EY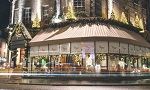 Ryan's Bar
2-4 Hope Street, just off the south side of Princes Street. Open 7 days serving breakfast, lunch and dinner with views of the castle, the perfect place to eat, drink and be merry. Tel: 0131 226 6669.
Website . EH2 4DB