A list of the Main Attractions in and around Edinburgh with images, websites, maps, and reviews.
The city Tour Buses visit most of the main attractions. These depart from the entrance to Waverley Train Station in the city centre.
Click on the post-codes for maps and reviews.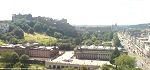 Princes Street Gardens
A public park in the city centre between the main shopping area of Princes Street and Edinburgh Castle. The Gardens were created in the 1820s, a great place to relax when shopping or for views of the castle. Rose Street and George Street are situated just behind Princes Street with many popular shops and bar/diners. The city Tour Buses start at St Andrew Square off the north end of Princes Street and pick up down Princes Street.
Website . EH2 2HG . Image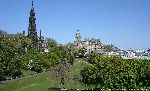 Scott Monument
In Princes Street Gardens. The 200ft high gothic Scott Monument was built in 1844 to honour the novelist Sir Walter Scott. There are 287 steps to the top, from where you have views of Edinburgh and for miles around. The steps are steep and narrow. Tel 0131 529 4068. Price guide about £6.
Web . Wiki . EH2 2EJ . Image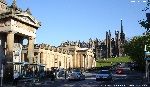 Scottish National Gallery
A neoclassical building between the two parts of Princes Street Gardens. The building was designed by William Henry Playfair, and first opened to the public in 1859. It holds Scotland's top collection of European paintings and sculpture from the Renaissance to Post-Impressionism. Tel 0131 624 6200. FREE.
Web . Wiki . EH2 2EL . Image
The Edinburgh Dungeon
Between Princes Street and the Royal Mile on Market Street. An amazing cast of theatrical actors, special effects, stages, scenes and a walk through experience that you see, hear, touch, smell and feel. Hilarious fun, and a bit scary. Tel 0131 240 1041.
Website . EH1 1DF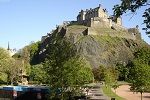 Edinburgh Castle
In the centre of Edinburgh overlooking Princes Street and Gardens. You can walk up to the Castle through Princes Street Gardens, or follow one of the roads up. This is the most visited tourist attraction in Scotland. The Royal Mile runs from the Castle down to the Palace of Holyroodhouse with lots of museums, souvenir shops, attractions, and diners. Tel 0131 225 9846.
Web . RS Page . EH1 2NG . Image

.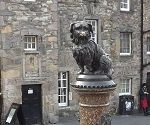 Greyfriars Bobby
Statue, old church & grave yard at George IV Bridge just off the Royal Mile down from the Castle just before St Giles Cathedral. The Old Church and Grave are across the road up a lane with a small Church Museum, well worth a visit. Greyfriars Bobby was a Skye Terrier that became famous after reportedly spending 14 years guarding the grave of his owner, John Gray, until he died himself on the 14th January 1872. A year later, Lady Burdett-Coutts had a statue and fountain erected at the southern end of the George IV Bridge, just off the Royal Mile, as seen right. Several books and films have been based on this dog, such as the novel Greyfriar's Bobby in 1912 by Eleanor Atkinson, and the films Greyfriars Bobby in 1961, and The Adventures of Greyfriars Bobby in 2006. Tel 0131 225 1900. FREE.
Website . Wiki . EH1 2QE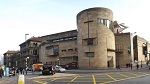 National Museum of Scotland
Just off the Royal Mile at George IV Bridge next to Greyfriars Bobby. Dedicated to the history, people and culture of Scotland. Opened in 1998, the museum has Sculptures, prehistoric jewellery, The Monymusk Reliquary, 10 of the Lewis chessmen, A Union Flag and Scottish Flag raised by the Hanoverians and Jacobites at the Battle of Culloden. Tel 0300 123 6789. FREE.
Website . RS Page . EH1 1JF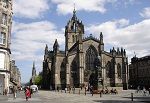 St Giles' Cathedral
Royal Mile a few hundred yards down from the Castle. St Giles' Cathedral is the historic Church of Edinburgh. Now known as the High Kirk of Edinburgh, as it lost its cathedral status during the reformation in the 1560s. One of the top historic attractions in Edinburgh. Tel 0131 226 0674. FREE.
Web . RS Page . EH1 1RE . Image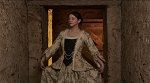 Real Mary King's Close
At the High Street / Royal Mile, over 400 years of history with a character guide for myths, legends, deadly plague, and a famous royal visitor.
Website . EH1 1PG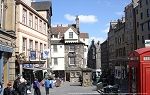 John Knox House
Museum on the Royal Mile below St Giles Cathedral. Built in the 1470s, John Knox House is one of Scotland's top museums, with connections to the Protestant reformation. The house was owned by James Mosman, goldsmith to Mary Queen of Scots, and became the last residence of John Knox, the Protestant reformer. Tel 0131 556 9579.
Web . Wiki . EH1 1SR . Image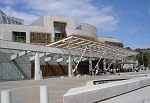 Scottish Parliament
At the bottom of the Royal Mile. Completed in 2004 to designs of the Catalan architect Enric Miralles. The building was built to celebrate Scotland establishing a new Parliament in 1999. The previous Scottish Parliament merged with the English Parliament in 1707. The building attracts vast numbers of visitors for its strange design. Tel 0131 348 5000. FREE.
Website . Wiki . EH99 1SP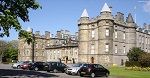 Palace of Holyroodhouse
At the bottom of the Royal Mile. Founded as a monastery in 1128, the Palace of Holyroodhouse is The Queen's official residence in Scotland. The Palace has a long interesting history, such as Mary, Queen of Scots lived here between 1561 and 1567, and kings and queens have made the Palace their premier royal residence in Scotland. Tel 0303 123 7306.
Web . RS Page . EH8 8DX . Image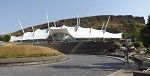 Our Dynamic Earth
At the bottom of the Royal Mile. Displays of our planet's past, present and future, with interactive exhibits and technology such as 4D and 3D experiences. You can see the creation of the Earth, follow the planet through its evolution, and catch glimpses of its future. Tel 0131 550 7800.
Website . UDS Page . EH8 8AS
Arthurs Seat
At the bottom of the Royal Mile. 820 feet high hill in Holyrood Park with a path all the way to the top for great views over Edinburgh.
Wiki . Image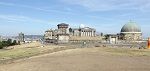 Calton Hill
At the bottom of the Royal Mile. 338 feet high hill at the north end of Princes Street with a number of monuments on top and the City Observatory.
Wiki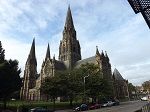 St Mary's Cathedral
1.4 miles southwest of Edinburgh centre. The foundation stone was laid on the 21st May 1874 by the Duke of Buccleuch and Queensberry. The Nave of the Cathedral was opened on the 25th January 1879. Tour buses do not visit, only a short walk from the south end of Princes Street. Tel 0131 225 6293.
Website . RS Page . EH12 5AW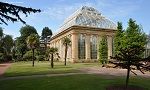 Royal Botanic Garden
1.4 miles northwest of Edinburgh centre. Opened in 1670 at St. Anne's Yard, by Holyrood Palace. It was moved to this location at Inverleith in 1820. This is the second oldest botanic garden in Britain, after the one in Oxford. The Palm House, built in 1858, is the highest in Britain. A new large visitor centre was opened in 2011, free entry. Some tour buses visit every 15 to 30 minutes. Tel 0131 248 2901.
Website . UDS . EH3 5LR . Image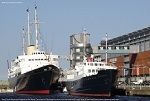 Royal Yacht Britannia
Port of Leith 3 miles north of Edinburgh centre. This ship was home to Her Majesty The Queen and her family. Now permanently berthed at Ocean Terminal in Edinburgh so you can board to view one of the most special of royal residences. Some City Sight Seeing buses visit the Britannia every 15 to 30 minutes. Service buses run to and from the city centre every 10 minutes, about £1.50 each way, these buses are marked Ocean Terminal. The Ocean Terminal also has a large modern shopping mall and multi bar/ diners /restaurants with views of the yacht. Tel 0131 555 5566.
Website . EH6 6JJ . Image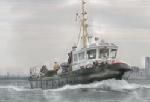 Granton Harbour - Firth of Forth
Trips, diving and fishing 3 miles northwest of Edinburgh. Based in Granton Harbour, Edinburgh. Enjoy cruises around the Islands of the Forth to view seals and their pups as the lie on the beaches, or the many species of seabirds of the Forth. Tel: 0777 4103 405.
Website . EH5 1HF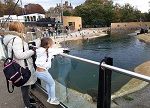 Edinburgh Zoo
4 miles southwest of Edinburgh centre on Corstorphine Hill with great views of the city. Built in 1913, it attracts over 600,000 visitors a year, Scotland's second most popular paid for tourist attraction, after Edinburgh Castle. Regular inexpensive buses run from the city centre. Tel 0131 334 9171. Large Images
Website . UDS Page . EH12 6TS
Lauriston Castle
4 miles northwest of Edinburgh centre in thirty acres of grounds with views across the Firth of Forth. It was built in about 1590 for Sir Archibald Napier, and extended in the 1820s. The preserved interiors were decorated and furnished between 1902 and 1926, in Edwardian style. Tel 0131 336 2060.
Website . EH4 6AD . Large Image
Newhailes
5 miles east of Edinburgh. A late 1600s mansion with early 1700s decorative art and collections, surrounded by a 1700s landscape. Step back in time for an experience rated as 5 satrs by the Scottish Tourist Board. Tel 0131 653 5599. Large Image
Website . UDS Page . EH21 6RY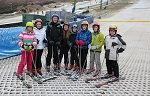 Midlothian Snowsports Centre
6 miles south of Edinburgh. Britain's longest challenging artificial ski slopes with tTwo main slopes, three nursery slopes, jump slope, all floodlit. Tel 0131 445 4433.
Website . EH10 7DU . Images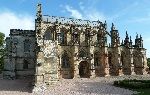 Rosslyn Chapel
8 miles south of Edinburgh centre. Rosslyn Chapel, originally named the Collegiate Chapel of St. Matthew, is a 1400s church in the village of Roslin. The Chapel is best known for its part in Dan Brown's 2003 best selling novel The Da Vinci Code, and the 2006 film. Tel 0131 440 2159.
Website . RS Page . EH25 9PU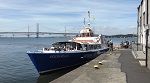 Forth Tours & Inchcolm Island
Trips from 9 miles northwest of Edinburgh centre with regular buses from Edinburgh. Based at Hawes Pier, South Queensferry. Tours to the Forth bridges and Inchcolm Island on the Forth Belle. You can take an optional 1 hour landing on Inchcolm Island to view the Historic Abbey. Tel: 0131 331 3030.
Website . RS Page . EH30 9TB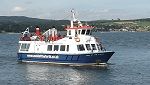 Forth Tours & Inchcolm Island
Trips from 9 miles northwest of Edinburgh centre. Boat trips depart from the Hawes Pier in South Queensferry, by Edinburgh. 1 hour sightseeing cruises where you can get great views of the historic Forth Bridges from our open top deck. Daily boat trips to Inchcolm Island are consistently voted as one of the best things to do in Edinburgh. Tel: 0131 331 5000.
Website . EH30 9TB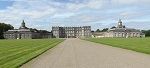 Hopetoun House
13 miles west of Edinburgh. One of the top Georgian mansions in Britain designed by the Scottish architects Sir William Bruce and William Adam. The House is in 150 acres of parkland with many woodland walks. Regular inexpensive buses run from Edinburgh centre to South Queensferry, which is an interesting town itself, you are then 3 miles from the house. A local taxi can then be hired to Hopetoun House or you can walk. Tel 0131 331 2451.
Website . RS Page . EH30 9RW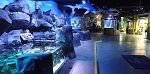 Deep Sea World
North Queensferry 14 miles west of Edinburgh. Deep Sea World is an aquarium opened in 1994, on a site below the Forth Rail Bridge with a collection of large sand tiger sharks, and various other species of shark. One of the top attractions is the 367 feet long transparent underwater viewing tunnel, that is one of the longest in the world. Trains run from Edinburgh centre 15 mins travel crossing the Forth Rail Bridge. Tel 01383 411 880.
Website . RS Page . KY11 1JR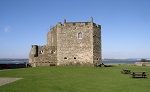 Blackness Castle
16 miles west of Edinburgh centre. Built in the 1400s by the Crichtons, one of Scotland's most powerful families, Blackness was built to serve as garrison fortress, state prison and secure port for Linlithgow Palace. Tel 01506 834 807.
Website . RS Page . EH49 7NH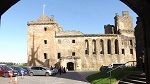 Linlithgow Palace
Linlithgow 17 miles west of Edinburgh. The remains of Linlithgow Palace are situated at the top of a hill between the centre of Linlithgow town and Linlithgow Loch. Birthplace of Mary Queen of Scots. In the centre of Linlithgow with inexpensive trains and buses running from Edinburgh all day to close to the Palace. Tel 01506 842 896.
Website . RS Page . EH49 7AL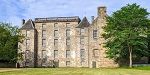 Kinneil House & Estate
19 miles west of Edinburgh centre in a public park, the oldest part of the house is a 1400s tower, remodelled by the Earl of Arran between 1546 and 1550. The ruins of James Watt's cottage and the boiler of his Newcomen Engine are on the the grounds. The House is open to the public only on free open days during the year, organised by Historic Scotland. Other times, the building has to be viewed from the outside. Tel: 0131 558 9326.
Website . UDS Page . EH51 0PR
National Museum of Flight
23 miles east of Edinburgh. The museum is in the wartime buildings of RAF East Fortune, one of the best preserved wartime airfields in the UK. The museum collections are one of the top in the UK, covering military, civil and recreational aircraft. Concorde is one of the most recent aircraft to be displayed. Regular Buses run from Edinburgh centre. Tel 0300 123 6789.
Website . RS Page. EH39 5LF