A list of the most popular Restaurants in Edinburgh centre with Websites, Phone Numbers and links to Maps and Reviews.
These restaurants include Scottish, Chinese, French, Indian, Italian, Mexican, South African, and Turkish.
Click on the Post-Codes for the Maps & Reviews.
The Royal Mile restaurants. The Royal Mile is actually five streets that run from Edinburgh Castle down to the Palace of Hollyrood. They are Castlehill, Lawnmarket, High Street, Cannongate, and Abbey Strand.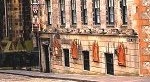 The Witchery by the Castle Scottish cuisine Castlehill. A world-wide reputation for exceptional dining in Edinburgh, showcasing the best of Scotland's produce in the most magical of settings. The Witchery is know for its Angus beef steak tartar, briny-fresh seafood platters and haggis. Tel: 0131 225 5613.
Website . Postcode: EH1 2NF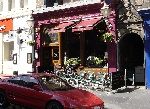 Whiski Bar & Restaurant Scottish cuisine, 119 High Street. Specialises in fresh Scottish food made on the premises each day with the menu changing with the seasons. All of our beef is Scottish and sourced from the borders of Scotland. Tel: 0131 556 3095.
Website . Postcode: EH1 1SG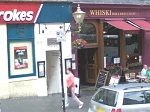 Dubh Prais Scottish cuisine, 123b High Street
A small romantic Edinburgh cellar restaurant offering a complete Scottish dining experience with the finest of salmon, sole, Aberdeen Angus beef, haggis and game (including pheasant and venison). Tel: 0131 557 5732.
Website . Postcode: EH1 1SG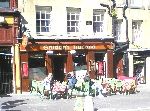 Gordons Trattoria Italian cuisine, 231 High Street. A cross between a New York deli and a tuscan restaurant, a larger than life Italian diner bang in the middle of Edinburgh's Royal Mile. Tel: 0131 225 7992.
Website . Postcode: EH1 1PE
Filling Station American cuisine, 235 High Street. Serving premium American food and cocktails on the Edinburgh high street. Tel: 0131 226 2488.
Website . Postcode: EH1 1PE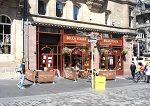 Bella Italia 54-56 Northbridge, corner of High Street. A range of dishes under 600 calories include Bucatini Gamberoni, Pepe Rossi Ripieni and Filetto di Spigola. All this plus some delicious sharing options, available, 12pm to 7pm everyday. Tel: 0131 225 2044.
Website . Postcode: EH1 1SB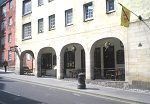 Cafe Truva Turkish cuisine, 251-253 Canongate
A variety of Turkish and Mediterranean style dishes as well as sandwiches, snacks, cakes and beverages. Tel: 0131 556 9524.
Postcode: EH8 8BQ
George Street restaurants. One of the main streets just behind Princes Street.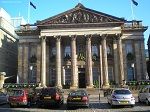 The Dome Scottish cuisine, 14 George Street. The Grill Room Bar and Restaurant, Club Room Bar and Restaurant, Conference Suites, Georgian Suite, Green Room and Garden Cafe. Tel: 0131 624 8624.
Website . EH2 2PF . Image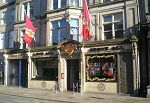 Hard Rock Cafe American cuisine, 18-20 George Street. Famed for displaying rock memorabilia in their restaurants and one of the largest collections of rock and roll memorabilia. The chain began to expand worldwide in 1982. Tel: 0131 260 3000.
Website . EH2 2PF . Image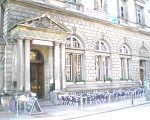 Contini Ristorante Italian cuisine, 103 George Street. Contini, formerly Centotre, is a traditional Italiant restaurant in with a striking interior, a former bank with high ornate ceilings and pristine white tables. Tel: 0131 225 1550.
Website . EH2 3ES . Image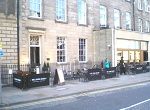 The Slug and Lettuce Global cuisine, 113-115 George Street. A friendly bar / diner with a children's menu served up until 8pm. Tel: 0131 226 0880.
Website . Postcode: EH2 4JN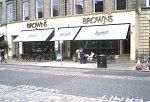 Browns Scottish cuisine, 133 George Street, City Centre. A blend of classic and modern dishes, platters-to-share, pasta, salads, sides and puddings. The bar is also a city favourite. Tel: 0131 225 4442.
Website . EH2 4JS . Image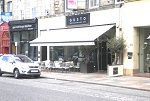 Gusto Italian cuisine, 135 George Street, City Centre. A contemporary setting with a focus on freshly prepared classic and modern Italian fare with a stand-alone bar along side the restaurant with a range of wines, beers, spirits and cocktails. Tel: 0131 225 2555.
Website . EH2 4JS . Image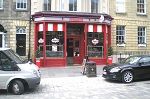 TGI Fridays American cuisine, 22-26 Castle Street just off George Street, City Centre. Legendary Friday's American classics from great appetizers to mouthwatering mains and tempting desserts. Tel: 0844 692 0273.
Website . Postcode: EH2 3HT
Other popular Edinburgh Centre restaurants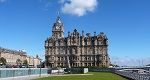 Number One Restaurant 1 Princes Street, Balmoral Hotel. Michelin starred Number One is recognized as one of Scotland's top restaurants. Probably the most expensive restaurant in Edinburgh and highest rated. Tel: 0131 557 6727.
Website . Postcode: EH2 2EQ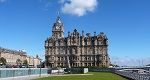 Hadrian's Brasserie 1 Princes Street, Balmoral Hotel. Popular with Edinburgh diners and hotel guests with a stylish atmosphere andexcellent contemporary menu. The cuisine has a strong international influence with a Scottish twist. Tel: 0131 557 5000.
Website . Postcode: EH2 2EQ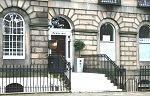 21212 / Restaurant with Rooms. AA 5 Star, 0.8 of a mile north of Waverley Train Station on Royal Terrace. Michelin-starred chef Paul Kitching's restaurant 21212 opened on Wednesday 20th May 2009. Tel: 0131 523 1030.
Website . Postcode: EH7 5AB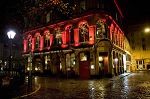 The Voodoo Rooms Scottish cuisine, 19a West Register Street, just off the north end of Princes Street, an award-winning venue which opened in November 2007 with a stylish and relaxed restaurant in a beautiful Victorian building. Open til 1am 7 days. Tel: 0131 556 7060.
Website . Postcode: EH2 2AA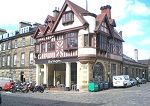 La P'titie Folie French cuisine, 9 Randolph Place, just off the south end of Princes Street. La P'titie Folie - "The Little Madness" has two restaurants in the heart of Edinburgh's New Town. Both provide delicious traditional French cuisine such as moules mariniers, breast of barbary duck and chargrilled sirloin steak with beurre. Tel: 0131 225 8678.
Website . EH3 7TE . Image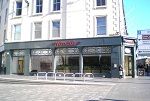 Nando`s South African cuisine, 71-73 Lothian Road, off the south end of Princes Street. A casual dining restaurant group originating from South Africa that specialize in chicken dishes with either lemon and herb, medium, hot or extra hot Peri-Peri marinades. Overlooking the Royal Lyceum Theatre, Usher Hall and Traverse Theatre. Tel: 0131 221 9260.
Website . Postcode: EH3 9AZ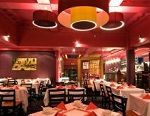 Saigon Siagon Chinese cuisine, 14 South St. Andrew Street, off the north end of Princes Street. Saigon Siagon is a popular Chinese restaurant that steadily attracts good customer reviews. Tel: 0131 557 3737.
Website . Postcode: EH2 2AZ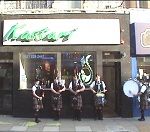 Kasturi Indian cuisine, 35-37 Shandwick Place, off the south end of Princes Street. A haven for Indian Food with tourists particularly welcome. Elegant decor and friendly service. Tel: 0131 228 2441.
Website . Postcode: EH2 4RG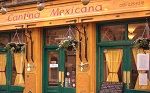 Miros Cantina Mexicana 184 Rose Street, just behind Princes Street. A small independent Mexican-style restaurant that specializes in home-cooked traditional and modern Mexican food with lively music and friendly staff. Tel: 0131 225 4376.
Website . Postcode: EH2 4BA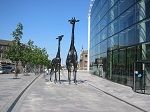 Omni Centre Edinburgh 28 Greenside Row, just off the north end of Princes Street. Restaurants and Bar Diners such as: Cosmos, Frankie & Bennys, Nandos, Pizza Hut, Tony Macaroni, Slug & Lettuce. The centre also has the 300 capacity Highlight for comedy acts, Night Club and the 12 screen View Cinema. Tel: 0131 524 7770 .
Website . Postcode: EH1 3AA