Below is a list of Golf Courses that welcome visitors in the Borders of Scotland.
Prices listed are only a guide, check the websites for up to date prices and offers.
Many clubs offer discounts for parties and rounds with catering included.
Click on Post-Codes for Maps, Directions and Reviews.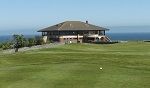 Eyemouth Golf Club
Links course 21 miles north of Berwick on Tweed at Eymouth. The only seaside golf course in the Scottish Borders with the sixth hole on the course was once voted the most extraordinary golf hole in Great Britain. Situated about 3 miles south east of Eyemouth. Price guide £38 - £43 round. Tel: 01890 750 004.
Website . TD14 5SF . Large Images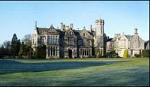 Roxburghe Golf Course
Parks course 4 miles south of Kelso. A challenging course on country estate that opened in 1997. The Viaduct, 14th hole, is the top hole on the course. Price guide about £30 - £53 round. Tel: 01573 450 333.
Website . TD5 8JZ
Grade Two Courses: Less formal & less expensive than Grade One Courses, but still excellent courses.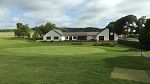 Duns Golf Club
Parks course by Duns 23 miles northeast of Melrose. Vistors can pay and play with no handicap certificate is required. This 18 hole parkland course is suitable for beginners as well as more experienced golfers. Situated about 1 mile west of Duns. Price guide about £30 round. Tel: 01361 882 194.
Website . TD11 3NR . Large Images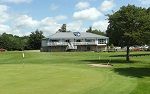 Hirsel Golf Club
Parks course on the west side of Coldstream. Often referred to as the Augusta of The Borders with a stern challenge to all golfers. Set in woodland with shrubbery, water and other hazards. Price guide about £32 round. Tel: 01890 882 678.
Website . TD12 4NJ . Large Images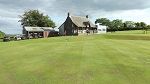 Jedburgh Golf Club
Parks course southwest side of Jedburgh. A 9 hole parkland course with areas of gorse, broom and water features on a number of holes. Price guide about £26 round. Tel: 01835 863 587.
Website . TD8 6TA . Large Image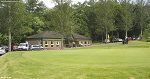 Melrose Golf Club
Parks course on the south side of Melrose. A beautiful 9-hole golf course at the foot of the Eildon Hills with great views of the surrounding countryside. The clubhouse is popular with both walkers and golfers with food and refreshments after a round of golf or climb over the Eildon Hills. Price guide £15 - £25 for 9 or 18 holes. Tel: 01896 822 855.
Website . TD6 9HS . Large Images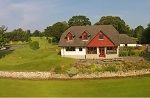 Minto Golf Club
Parks course 6 miles northeast of Hawick in undulating parkland with mature woodland, one of the most scenic golf courses in the South of Scotland. Price guide about £32 round. Tel: 01450 870 220.
Website . TD9 8SA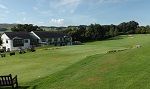 Peebles Golf Club
Parks course on the northwest side of Peebles. A championship course, that has played host to the Scottish Girls, Strokeplay Championship, and Scottish Boys Team Championship. The course is considered one of the finest in the Borders for the quality, greens and views. Price guide £40 - £50 round. Tel: 01721 720 197.
Website . EH45 8EU . Large Image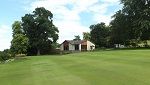 St Boswells Golf Club
Parks course 5 miles southeast of Melrose by St Boswells. Situated on the south bank of the River Tweed, this scenic 9 hole course allows golfers to play in a relaxing atmosphere. Price guide about £30 for 18 holes. Tel: 01835 823 527.
Website . TD6 0DE . Large Images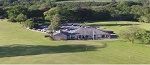 Torwoodlee Golf Club
Parks course 2 miles north of Galashiels. Visitors from around the world are sure to receive a warm Scottish Borders welcome at this picturesque 18-hole 6,021 yard, par 69 golf course by the River Gala, amoungst a mix of mature woodland and rolling parkland. Price guide about £36 round. Tel: 01896 752 260.
Website . TD1 2NE