| | |
| --- | --- |
| Edinburgh Area Highland Games | RS Home |
A list of Highland Games in the Edinburgh Area to Visit with Websites, Town Images and Reviews where available.
Highland Games are sporting events that take place in the summer in many Scottish towns. The origin of the games is thought to have been from gatherings of Clans to find their top warriors. Today, Highland Games are held throughout the world, by families with connections to Scotland.
The dates for each Games are normaly the same each year, an odd one may change. We try to update this page with any changes. Check the websites for the latest dates.
Click on the PostCodes for Maps.
---
These Highland Games are listed from the closest to Edinburgh


Burntisland Highland Games 21 miles north of Edinburgh/ July 3rd week. The second oldest in the world dating back to 1652. Originally held on St Peter's day (29th June) but now the third Monday of July. Market traders and a summer fairground help raise large crowds, 50,000 in 2004.
Website . UDS Page . KY3 9AH
West Lothian Highland Games 22 miles west of Edinburgh/ May 4th week. In Meadow Park, Bathgate since 1973 consisting of a pipe band contest, solo piping competition, highland dancing competition, hill race and heavy athletics. 21 miles west of Edinburgh, 28 miles east of Glasgow.
Website. UDS Page . EH48 2AB.
Peebles Highland Games 22 miles south of Edinburgh/ September. The present Games are among the best non-championship events, with a more relaxed atmosphere at the end of the competition season.
Website . UDS Page . EH45 8AJ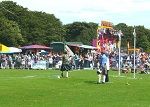 North Berwick Highland Games 24 miles east of Edinburgh/ August 1st week. An attendance of 15,000 has become the norm with many visitors appreciating the spectacle of the Highland Games and to visit the charming seaside town of North Berwick.
Website . UDS Page . EH39 4AP
Airth Highland Games 30 miles west of Edinburgh/ July 4th week. A long history, going back to 1871, or their origins may be even further buried in the mists of time, as they may be from the games and sports played by Prince James's rebel soldiers camping in Airth in 1488, on their way to the battle of Sauchieburn.
Website . UDS Page . FK2 8JF
Shotts Highland Games 30 miles southwest of Edinburgh/ June 1st week. About forty pipe bands play for the West of Scotland Championship and over 100 dancers take part in the Highland Dancing competitions.
Website . Postcode/Map: ML7 4JN
Stirling Highland Games 36 mile northwest of Edinburgh/August 3rd week. A great day out for all the family with something for all to enjoy. Held at The Peak / Stirling Sports Village on the east side of the town.
Website . UDS Page . FK8 1QZ
Bridge of Allan Highland Games 42 miles northwest of Edinburgh/ August 1st week. One of Scotland's premier Highland Games normally attracting crowds of between 10,000 and 15,000. The games field is situated between Stirling Castle, The Ochil Hills and the Wallace Monument.
Website . UDS Page . FK9 4QP
Cupar Highland Games 43 miles north of Edinburgh/June 2nd week. The Games are now an 'Open' event included in the F.H.G.A. circuits.
Website . UDS Page . KY15 5AS
Ceres Highland Games 44 miles north of Edinburgh/ June 4th week. The oldest free games in Scotland held on the last Saturday of the month of June since the charter to hold the Games was given by Robert Bruce in 1314, for the peoples support at the battle of Bannockburn
Website . UDS Page . Map
Newburgh Highland Games and Coble Boat Race 45 miles north of Edinburgh/ June 3rd week. A picturesque setting on the south bank of the Tay estuary in a wonderful natural amphitheatre in Mugdrum Estate. The Cobble Boat Race takes place on the river Tay the night before.
UDS Page . KY14 6DA
Bearsden and Milngavie Highland Games 51 miles east of Edinburgh/ June 2nd week. The Games attracted over 10,000 visitors in 2007 as they provide a great Scottish day out for family, tourists, sports people, shoppers and funseekers. Milngavie is 7 miles north of Glasgow.
Website . UDS Page . G62 6AQ
Callander Highland Games 52 miles northwest of Edinburgh/ July 4th week. Has a grand opening parade so best to arrive early, or arrive on Friday and stay overnight to enjoy Callander before the games start.
Website . UDS Page . Map
Birnam Highland Games 57 miles north of Edinburgh/ August 4th week. Traditional Scottish Highland Games in stunning Perthshire scenery since 1864. Experience for yourself the fun and culture that has kept the Games so popular for over a century.
Website . UDS Page . PH8 0BG
Crieff Highland Gathering 60 miles north of Edinburgh/ August 3rd week. The first Gathering took place in 1870 and has occured every year since with the two exceptions of 1914-18 and 1939-49. Situated 17 miles west of Perth.
Website . UDS Page . PH7 3AN
Killin International Highland Games 73 miles northwest of edinburgh/ August 1st week. Athletes from across the world attend these games held at Breadalbane Park. Situated 36 miles north of Stirling.
Website . UDS Page . FK21 8UH


All Highland Games throughout Scotland